Diana's Desserts - www.dianasdesserts.com
See more recipes in
Ice Creams and Frozen Desserts
Little Igloos
in Diana's Recipe Book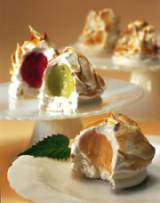 [Be the first to post a review!]
Servings: 8
Ingredients:

For the Crisp Meringues:
1 egg white
1/2 teaspoon cream of tartar
1/4 cup superfine sugar
Pinch of kosher salt
1 vanilla bean, split and scraped

For the Soft Italian Meringue:
1/2 cup superfine sugar
1/4 cup water
2 egg whites

Instructions:
Instructions:
The egg whites perform best at room temperature. Place egg whites and cream of tartar in bowl of electric mixer with whisk attachment. Whip egg whites until frothy, then continue to beat while slowly adding all of the sugar over the course of 1 minute. Add salt, vanilla bean scrapings and whip until incorporated.

Fill a pastry bag fitted with plain tip with meringue and pipe into 8, 2" filled-in discs on a parchment-lined baking sheet. Bake at 200°F degree oven for 1 hour and turn oven off, leaving meringue disks in oven overnight to dry out.

Combine sugar and water in small saucepan. Bring sugar syrup to a boil. When sugar syrup starts to boil, begin whipping egg whites in electric mixer. When syrup reaches 222°F (with a sugar thermometer) remove from the heat and slowly pour into whites. Continue to whip until stiff peaks form.

To Assemble:
Scoop 1-2 ounces of your favorite sorbet or ice cream on disc of crisp meringue. Using small spatula or back of a spoon, smooth some of soft meringue around sorbet or ice cream to completely cover it. Repeat for all 8 meringue disks. Lightly brown meringue by putting under broiler for approximately 1 minute. Serve immediately or return to freezer to serve later. Can be assembled and frozen for 2-4 hours before serving.

Makes 8 servings.


Date: November 8, 2002