Diana's Desserts - www.dianasdesserts.com
See more recipes in
International Desserts and Treats
Tiramisu
in Guest Recipe Book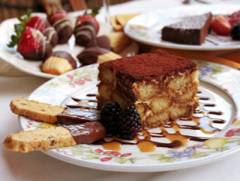 Average Rating:
(total ratings: 15)
[Read reviews]
[Post a review]
Servings: Makes 10-12 slices
Comments:
Tiramisu

Definition: [tih-ruh-mee-SOO; tih-ruh-MEE-soo] The translation for tiramisu is "carry me up," and many who taste this ethereal dessert assume the unspoken continuation must surely be "to heaven." Tiramisu is a light composition of sponge cake or ladyfingers dipped in a coffee-marsala mixture, then layered with mascarpone (an ultrarich Italian cream cheese) and topped with cocoa powder or grated chocolate. The dessert is refrigerated for several hours before serving to allow the flavors to intermingle. Although tiramisu is sometimes referred to as an Italian trifle, its texture is much lighter than that dessert.

Copyright (c) 1995 by Barron's Educational Series, from The New Food Lover's Companion
Ingredients:

3/4 cup confectioners' sugar
3 cups whipping cream
2 (8 oz.) containers mascarpone cheese (16 oz. total)
1 tablespoon vanilla extract
pinch of salt
1 1/2 pkg. ladyfingers
1/3 cup cold strong coffee or espresso
1/3 cup marsala wine, brandy, amaretto or white rum
Cocoa powder, or grated chocolate
Instructions:
In a large bowl, lightly beat the mascarpone to smooth it out. Add the confectioners' sugar, cream, vanilla, and salt and using an electric beater, beat this mixture until it is smooth and thickened like fluffy cream.

Using a 9 x 13-inch pan, or a medium size glass oval baking dish, line the bottom with ladyfingers, flat side down.

Combine the cold, strong coffee (use 2 tablespoons instant espresso powder to 1/3 cup of cold water) and the liquor in a cup. Using a pastry brush, lightly brush half of the coffee/liquor mixture over the ladyfingers. Cover with half of the mascarpone mixture. Sprinkle liberally with powdered cocoa. Add another layer of ladyfingers, and repeat as above. Sprinkle top liberally with the cocoa.

Cover tightly with plastic wrap and refrigerate at least 24 hours. This is important, as it blends the flavors and the ladyfingers soak up the liquid. A perfect tiramisu should slice easily, but can be a little soft and perhaps even a little runny when served, rather than holding its shape perfectly.

Makes 10-12 slices.
Source: DianasDesserts.com
Date: January 17, 2002
Reviews
Reviewer:
Akanksha Gera
Rating:
Review:
This recipe is perhaps the MOST DELICIOUS thing I have ever ate in my entire life!!!! I am not exaggerating one bit. It was simple to make. The only alteration I made to the recipe was dipping the ladyfingers for about 5 seconds (4 turns) instead of using the brush technique. This worked out great but I did have to use a bit more ladyfingers and a little more espresso..use your judgement! Diana, this is a great recipe and thank you very much because I can now make my own! Thanks!!!!!
Reviewer:
lisa
Rating:
Review:
it kept for days! i think it needed a tiny bit more alcohol flavor...
yum and oh, so easy!
Reviewer:
Bart
Rating:
Review:
i am just wondering what are lady fingers?
Reviewer:
Fozia
Rating:
Review:
This is probably the easiest (yet delicious) recipe for Tiramisu I have every seen. It's a hit every time I make it and everyone always asks me for the recipe. Thanks for the awesome recipe !
Reviewer:
Steve Budihardjo
Rating:
Review:
This is excellent! I've been trying other kinds of recipes but with the recent asian-flu cases I'm a little concern about using raw eggs and using a double boiler still doesn't make me feel confident. So this is a perfect solution for me. Thanks Diana!
Reviewer:
Richard Smith
Rating:
Review:
This is a very yummy dessert that is exotic, yet very, very easy to put together. I've varied it by adding 8 egg yolks to the cheese mixture, then streaming chocolate syrup over either the entire pan, or individual slices on a plate for a half-decorative/half-chocolate-infusing effect.
Reviewer:
Sanela
Rating:
Review:
This is the best and easierst cake i've ever made and the cake tastes delicious.
Reviewer:
B
Rating:
Review:
I am planning on making this but I am wondering if 3/4 cup powdered sugar will be too sweet. Could someone who has made this let me know if it was too sweet? Thanks
Reviewer:
Giovanna
Rating:
Review:
The Best Ever! I used a marscapone substitute because I couldn't get it in my area and it came out fabulous... I also used amaretto and kalua as the primary flavoring along with fresh esspresso. It looks devine! Thanks Diana!
Reviewer:
Amber
Rating:
Review:
Very easy to make. I used a cinnamon flavored coffee and Grand Marnier instead of marsala. Excellent!! This one's a keeper!
Reviewer:
Wendy Lee
Rating:
Review:
This is a yummy yet easy to make version for tiramisu!
Reviewer:
Poh Kheng
Rating:
Review:
lady's finger = okra. it's taste great. i finally make a tiramisu myself without any wrong. everyone loves it.
Reviewer:
Sarah
Rating:
Review:
This was excellent!
By the way Poh Kheng, Okra are also known as Lady's fingers but they are a type of vegetable and are NOT meant for this dessert. Ladyfingers in this recipe are light biscuits.
Reviewer:
judy hahn
Rating:
Review:
I haven't made these yet because I need to buy ladyfingers. Could someone please define ladyfingers? I thought they were a vanilla sandwich cookie, but someone here calls them biscuits. thanks
Reviewer:
Cristy
Rating:
Review:
I made this recipe so many times now and my famiy and friends really loved it...Greetings from Netherlands