Diana's Desserts - www.dianasdesserts.com
See more recipes in
International Desserts and Treats
Amaretti
in Guest Recipe Book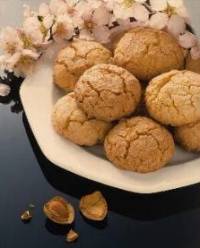 [Be the first to post a review!]
Servings: Makes about 40 Amaretti Cookies
Comments:
AMARETTI
Definition: [am-ah-REHT-tee] Intensely crisp, airy macaroon cookies that are made either with bitter-almond paste or its flavor counterpart, apricot-kernel paste. In the United States, pairs of paper-wrapped Amaretti di Saronno (made with apricot-kernel paste) are sold under the label of Lazzaroni. Amarettini are miniature cookies with the same flavor.

Copyright (c) 1995 by Barron's Educational Series, from The New Food Lover's Companion, Second Edition, by Sharon Tyler Herbst

Perfect for a light ending to a big meal, amaretti are puffy confections served frequently in Italy. A cup of espresso or cappuccino would be the perfect complement.


Ingredients:

2 egg whites
1 1/4 cups blanched (cooked quickly and skins removed) whole almonds*
3/4 cup granulated sugar
1/4 teaspoon cream of tartar
1/4 teaspoon almond extract
1/4 cup slivered almonds

Instructions:
In a large mixing bowl let the egg whites stand at room temperature for 30 minutes. Meanwhile, line 2 cookie sheets with parchment paper or brown kraft paper. Set aside. In a food processor bowl or blender container process or blend whole almonds with 1/4 cup of the sugar till almonds are finely ground. Set aside.

Add the cream of tartar and almond extract to the egg whites. Beat with an electric mixer on medium speed till soft peaks form (tips curl). Gradually add the remaining 1/2 cup sugar, 1 tablespoon at a time, beating on high speed till very stiff peaks form (tips stand straight) and sugar is almost dissolved. Fold in ground almonds.

Drop meringue mixture by rounded teaspoons 1 1/2 inches apart onto the prepared cookie sheets. Sprinkle a few slivered almonds over each cookie. Bake in a preheated 300 degrees oven for 12 to 15 minutes, or till cookies just begin to brown (centers will be soft). Turn off oven. Let cookies dry in oven with the door closed for 30 minutes. Peel cookies from paper. Store in an airtight container in a cool, dry place for up to 1 week.

Makes about 40 amaretti cookies.

*Note: Blanched almonds can be found in most supermarkets.
Source: DianasDesserts.com
Date: October 6, 2002