Diana's Desserts - www.dianasdesserts.com
See more recipes in
Kwanzaa
Holiday Coconut Cake
in Guest Recipe Book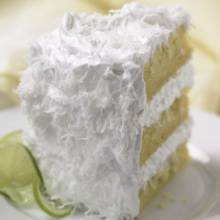 Average Rating:
(total ratings: 6)
[Read reviews]
[Post a review]
Servings: Makes 1 (3-layer) cake
Comments:
Fresh Coconut Cake is the very essence of the holiday season. Serving this very special cake for your New Years, Kwanzaa, Christmas or Hanukkah dessert will bring you many complements and requests for the recipe.

If you can't find fresh coconut at your local market, use packaged shredded coconut instead. Your cake will still taste delicious.
Ingredients:

For Cake:
1 cup (2 sticks/8oz./226g) unsalted butter, softened
2 cups granulated sugar
4 large eggs
2 3/4 cups all-purpose flour
2 teaspoons baking powder
1 teaspoon salt
1 cup milk
1 1/2 teaspoons vanilla extract
1 1/2 teaspoons almond extract

For Coconut Syrup:
2 tablespoons granulated sugar
1/4 cup fresh coconut milk

Boiled Frosting
(see ingredients and instructions below)

Extra Ingredients for Filling and Garnish:
2 to 3 cups fresh shredded coconut, (sprinkled over filling, and for tops and sides of cake after frosting)
Instructions:
For Cake:
1. Beat butter at medium speed with an electric mixer until creamy; gradually add 2 cups sugar, beating well. Add eggs, 1 at a time, beating until blended after each addition.

2. Combine flour, baking powder, and salt; add to butter mixture alternately with milk, beginning and ending with flour mixture. Beat at low speed until blended after each addition. Stir in flavorings. Pour batter into 3 greased and floured 9-inch round cake pans.

3. Bake at 350 degrees F/180 degrees C for 20 to 25 minutes or until a wooden pick inserted in center comes out clean. Cool in pans on wire racks 10 minutes; remove from pans, and cool on wire racks.

For Coconut Syrup and Frosting:
4. Combine 2 tablespoons sugar and coconut milk. Microwave on HIGH 30 seconds; stir until sugar dissolves. Brush 1 cake layer with half of coconut milk mixture, leaving a 1/2-inch margin around edges. Spread with 1 cup Boiled Frosting (ingredients and instructions for Boiled Frosting follow), and sprinkle with 1/2 cup shredded coconut. Top with second cake layer, and repeat procedure. Top with remaining cake layer. Spread remaining frosting on top and sides of cake; sprinkle with remaining coconut.

Makes a 9-inch round 3-layer cake.

Note: Cover and chill cake for easy slicing.

Boiled Frosting

1 1/2 cups granulated sugar
1/2 cup water
4 egg whites
1/2 teaspoon cream of tartar
1/8 teaspoon salt
6 large marshmallows, cut into small pieces

Instructions:
1. Combine sugar and water in a heavy saucepan. Cook over medium heat, stirring constantly, until mixture is clear. Cook, without stirring, until syrup reaches soft ball stage or candy thermometer registers 240 degrees F/115 degrees C.

2. While syrup cooks, beat egg whites at low speed with an electric mixer until foamy. Add cream of tartar and salt; beat at medium speed until soft peaks form. Increase to high speed, and add hot syrup in a heavy stream. Add marshmallows, a few pieces at a time. Beat until stiff peaks form and frosting is thick enough to spread.

Makes 7 cups frosting


Tips for Cracking Coconut

Heres how to open, clean, and shred fresh coconut. One coconut should yield enough meat and milk for this cake. Working over a pan or bowl, strike coconut with a hammer several times until coconut cracks in half. Strain coconut milk through a fine sieve, and set milk aside.

Place coconut halves in a heavy-duty zip-top bag; seal. Strike with hammer to get several small pieces. Separate outer shell from meat with a dull knife (an oyster knife works well). Carefully cut away thin brown skin with a paring knife or vegetable peeler.

Rinse coconut meat. Shred coconut in a food processor, using the fine shredder disk. Tightly pack chunks of coconut in food chute and shred, using firm pressure. Otherwise, you can use the largest holes of a box grater to shred coconut, just watch your knuckles.

Recipe Adapted from: Christmas with Southern Living 2001. Recipe by Hazel Burwell.
Source: DianasDesserts.com
Date: August 20, 2002
Reviews
Reviewer:
John Doe
Rating:
Review:
Thank you for the help. I wanted to make a coconut dessert for my mother for years and now that I finally had a coconut I couldn't find a way to shred it! The recipe is delicious and the rest is a big help! Thanks again
Reviewer:
jessica
Rating:
Review:
omg, the best i have ever tried.
Reviewer:
Gayle
Rating:
Review:
After years of playing with recipes, this one is it! My husband lives for coconut cake! Thank you. Easy, moist, and just what New Years Eve needed! Thank you
Reviewer:
Beth Green
Rating:
Review:
My grandmother was FAMOUS for her coconut cakes around our little town in Tennessee, and people would beg her to make one of her cakes for them. THIS recipe replicates hers almost exactly; thank you for helping my family experience "Nanny's Coconut Cake" again.
Reviewer:
jagee john
Rating:
Review:
Good propotion of ingredients used. I substituted the milk for 1/4 cup of thick coconut cream & tossed in 1 cup of fresh shredded coconut.This gives more flavour of coconuts!!!
Reviewer:
sheila
Rating:
Review:
I had been looking for a coconut cake receipe that was totally delicious, and this is the one!!