Diana's Desserts - www.dianasdesserts.com
See more recipes in
International Desserts and Treats
Danish Aebleskiver
in Guest Recipe Book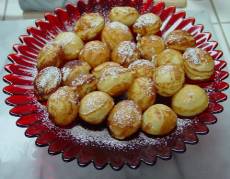 Average Rating:
(total ratings: 4)
[Read reviews]
[Post a review]
Servings: 2 dozen
Comments:
What are Aebleskiver?

A traditional Danish sweet. Aebleskiver are often called "Danish doughnuts," but unlike doughnuts they are not deep-fried. They are traditionally prepared from a batter flavored with beer, spices, and citrus zest, that is leavened with baking powder (as well as eggs). Aebleskiver are cooked on top of the stove in a special pan known as an "aebleskivepande". The pan has deep individual half sphere indentations that form the aebleskiver as they cook. The batter is added to the indentations in the hot buttered pan, filling each about two-thirds full. Once the "doughnuts" have set on the bottom they are turned over and cooked on the other side, producing a round ball at the end of the cooking process. The traditional "old-country" way to turn the aebleskiver in the pan is to spear them with a knitting needle or a metal skewer. A small amount of jam or a slice of apple is sometimes inserted into the center of the Aebleskiver before turning them. The name aebleskiver translates to "apple slice." The cooked pastries are served warm, dusted with confectioners' sugar.
Ingredients:

2 large eggs, separated
1 tablespoon granulated sugar
1/4 teaspoon salt
1 cup all-purpose flour
1/2 teaspoon baking powder
1/2 teaspoon baking soda
1 cup buttermilk
4 tablespoons unsalted butter
Confectioners' sugar, for dusting tops, OR if desired, use granulated sugar for rolling aebleskiver in.

Special Equipment:
You will need an Aebleskiver Pan

Aebleskiver pans may be purchased online at: Happycookers.com, at Cooking.com, at Solvangmall.com, or at specialty cooking stores.

Optional Fillings:
Sliced apples
Applesauce
Jam
Jelly
Preserves
Instructions:
Beat egg yolks until light and fluffy; add the sugar and salt.

Sift the flour with baking powder and baking soda; then add to the egg mixture, alternating small amounts with the addition of the buttermilk, as you continue mixing.

Beat the egg whites until stiff, then gently fold them into the batter.

On stovetop, preheat the aebleskiver pan on medium heat. Place approximately 1/2 teaspoon butter in each cavity and heat until butter is foamy.

Pour a little batter into each cavity in pan, filling each about 2/3 full.

*Note: If you wish to fill the aebleskiver with a little applesauce or sliced apple, jam, jelly, or preserves; spoon a small amount (1-2 teaspoons) into the center of each cavity at this point in cooking.

Cook aebleskiver over medium heat until golden brown and crisp on bottom. Turn each aebleskiver with a fork to cook the other side.

The aebleskiver is done when a toothpick, or cake tester, inserted in the center comes out clean. The total cooking time is about 2-3 minutes.

Important Note:
Add a little more butter to the aebleskiver pan cavities after making each batch.

Remove aebleskiver from pan and dust with confectioners' sugar, or roll them in granulated sugar. Serve while still warm with jam or applesauce.

Tips:
You can add a small amount of ground cinnamon, ground cardamom, vanilla extract, grated lemon or orange zest to this recipe if desired.

Aebleskiver may be refrigerated and are delicious re-warmed in the microwave for 25-35 seconds.

Makes approximately 2 dozen aebleskiver.

Photograph taken by Diana Baker Woodall© 2001
Source: DianasDesserts.com
Submitted By: DianasDesserts.com
Date: August 26, 2003
Reviews
Reviewer:
Ken Gargala
Rating:
Review:
I just love these things..
Reviewer:
pam erskine
Rating:
Review:
I've been making these since the early 70's. This is the same recipe as my Aunty Maries. I'm really excited to find the recipe again.
Reviewer:
Diana from Denmark
Rating:
Review:
I love them so much! More than amazing!
Reviewer:
Clarice
Rating:
Review:
I had these for the first time at an Old European Breakfast Restuarant today. They serve them with sausage inside which is excellent also. I am eager to try this recipe and will rate it excellent in anticipation of the results!