Diana's Desserts - www.dianasdesserts.com
See more recipes in
Cheesecakes
Lemon Moist Cream Cheese Cake
in Guest Recipe Book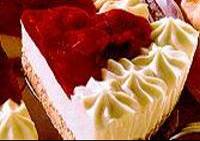 Average Rating:
(total ratings: 3)
[Read reviews]
[Post a review]
Servings: 10
Comments:
A firm crust with a fine textured cream cheese filling. A beautiful combination of tastes!
Ingredients:

Biscuit Crust Base:
100gm (7 tablespoons) bread crumbs or cream crackers/
digestives/whole meal biscuits
30gm (2 tablespoons) Quick Cooking Quaker Oats
20gm (1 1/2 tablespoons) superfine granulated sugar
40gm (3 tablespoons) toasted chopped almonds (toasted blanched almonds cut into small pieces; may be substituted with other toasted nuts of choice)
120-130gm (4-4 1/2 ounces, or 1 stick, or 1 stick plus 1 tablespoon) melted unsalted butter, ( use smaller or larger amount of butter depending on the dryness of the crushed biscuits)

CREAM CHEESE FILLING:
70gm (5 tablespoons) unsalted butter
350gm (12 ounces or four 3oz. packages) cream cheese (softened)
130gm (1/2 cup or 4 ounces or 1 stick) superfine granulated sugar
20gm (1 ½ tablespoons) plain or cake flour*
20gm (1 ½ tablespoons) corn flour*
1/4 tsp. salt
200gm (For USA: 4 large) eggs, weighed without shell
beaten)
300gms (1 1/3 cup) fresh milk **
Juice from 1 medium size lemon***
1 tsp. lemon flavouring or extract***

NOTES:
Cake flour and corn flour should be sifted together.*

Fresh milk may be substituted with 150 gm ( 2/3 cup) fresh milk added to 150 gm (2/3 cup) heavy cream for a richer filling .**

Mix lemon juice and lemon flavoring together.***




Instructions:
Biscuit Crust Base:

1. Mix together the crumbs or any flavour biscuits (crushed fine), quick oats, sugar, toasted almond nibs, and melted butter just sufficient to bind.

2. Press evenly, over the base of a 9" springform cake pan.

3. Chill in the freezer for 1 hour.

Cream Cheese Filling:
Preheat oven to 170 degrees C (340 F).
1. On low speed, beat butter with half the sugar until soften; then add the softened cream cheese and the other half of the sugar and continue beating until light and fluffy.

2. Fold in the sifted flours, and salt.

3. Add beaten eggs a little at a time, stopping to scrap the sides to ensure even mixing.

4. Lastly add milk and then lemon juice and flavour, mixing well.

5.Strain the mixture (put it through a sieve and press out the thick mixture through to ensure a fine grain filling) into the prepared biscuit-based mould and bake at 170 C (340 degrees F) for 1 hour. (Baking technique: Bake at the above temperature for 30 minutes; switch off the oven but leave the cake inside for 10 minutes; switch on the oven again and continue baking for another 20 minutes or until done. - this is to prevent the cake from having any cracks on top).

6. Let cake cool entirely in the pan and then chill overnight before serving.

To Serve:
Cheesecake may be decorated with blueberry or strawberry pie filling on top, decorate sides with whipped topping and piped with rossettes along the top and bottom edges.

Serve chilled.
Enjoy !

Note: Cheesecake in photo is topped with strawberry pie filling, and with whipped cream piped around the top edges of cheesecake.........Diana's Desserts.

Source: Chef William Tan
Submitted By: Zue Hussin
Date: July 2, 2002
Reviews
Reviewer:
Tiera
Rating:
Review:
I love it!!!
Reviewer:
Sasha
Rating:
Review:
Too dry, then the topping makes it 'slimy', not very enjoyable!
Reviewer:
Chef William Tan
Rating: