Diana's Desserts - www.dianasdesserts.com
See more recipes in
International Desserts and Treats
Panna Cotta
in Guest Recipe Book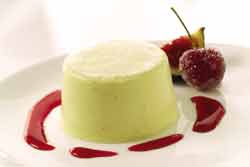 Average Rating:
(total ratings: 4)
[Read reviews]
[Post a review]
Servings: 6-8
Comments:
This panna cotta is like eating vanilla ice cream Although panna cotta translates as "cooked cream," in fact, you heat the heavy cream only long enough to dissolve the sugar and a little gelatin. To bring the dessert to the consistency it achieves with the super-thick cream of
the Piedmont region's dairy country where it was born, I stir in sour cream before pouring it into small molds for chilling. Chefs often dress up panna cotta with complicated sauces. I like it on its own, or the way it's eaten in homes, with fresh cherries when they come into season or strawberries, raspberries, peaches, and pears.

The boiled-down juice of fresh-pressed wine grapes, an old-country substitute for sugar, sometimes sauces panna cotta. Find imported Saba from Modena in some fancy food stores. Balsamic vinegar isn't a Piemontese tradition, but the thick liqueur-like, artisan-made balsamic (Aceto Balsamico Tradizionale di Modena or Aceto Balsamico Tradizionale di Reggio-Emilia) is fabulous over panna cotta.

Cook to Cook: use organic cream if possible and be sure the sour cream contains only cream and culture, no other additives. This recipe unmolds with a soft, creamy finish. For a firmer panna cotta, increase the gelatin to 1 3/4 teaspoons.


Ingredients:

1 1/2 teaspoons unflavored gelatin
2 tablespoons cold water
3 cups heavy whipping cream
1/2 cup (3 1/2 ounces) sugar, or more to taste
Pinch of salt
1 1/2 teaspoons vanilla extract
1 cup (8-ounce container) sour cream

Optional Toppings:
2 cups pitted fresh cherries, strawberries, raspberries, or sliced peaches or pears or 1 1/2 to 2 tablespoons artisan-made balsamic vinegar or 2 to 3 tablespoons Saba syrup or Vin Cotto


Instructions:
1. Sprinkle the gelatin over the cold water. Let stand for 5 minutes. In a 3-quart saucepan, warm the cream with the sugar, salt, and vanilla over medium-high heat. Do not let it boil. Stir in the gelatin until thoroughly dissolved. Take the cream off the heat and cool about 5 minutes.

2. Put the sour cream in a medium bowl. Gently whisk in the warm cream a little at a time until smooth. Taste for sweetness. It may need another teaspoon of sugar. Rinse 8 2/3 -cup ramekins, custard cups, or coffee cups with cold water. Fill each one three-quarters full with the cream. Chill 4 to 24 hours.

3. To serve, either unmold by packing the molds in hot towels and then turning each out onto a dessert plate, or serve in their containers. Serve alone or with the fruit, or drizzle each portion with about 1/2 teaspoon artisan balsamic vinegar or Saba.

Makes 6 - 8 servings.

Wine Suggestion:
A lush, sweet red Recioto della Valpolicella Classico La Roggia by Fratelli Speri

Recipe adapted from The Italian Country Table: Home Cooking from Italy's Farmhouse Kitchens, by Lynne Rossetto Kasper


Source: The Italian Country Table : Lynne Rossetto Kasper
Date: June 23, 2002
Reviews
Reviewer:
Sandra
Rating:
Review:
This is great stuff, I made first just for my husband and I and he loved it, so when we had guests he asked me to make it again and the guests couldn't have enough, they loved it. It is also very easy to make...excellent!!
Reviewer:
Ada
Rating:
Review:
Very simple and very tasty!
Reviewer:
zeenat
Rating:
Review:
Its nice.
Reviewer:
zeenat
Rating:
Review:
merci