Diana's Desserts - www.dianasdesserts.com
See more recipes in
International Desserts and Treats
Pasta Ciotti or Pasticiotti (Little Custard Tarts)
in Guest Recipe Book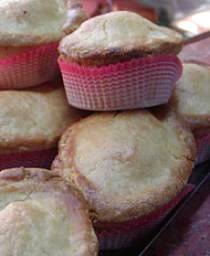 Average Rating:
(total ratings: 14)
[Read reviews]
[Post a review]
Servings: Makes 1 dozen (3-inch) tarts
Comments:
Pasticiotti (or called Pasta Ciotti, as referred to in this recipe by Mary Ann Esposito in her book Celebrations Italian Style) are small individual cream or custard filled tarts with either a vanilla cream or custard filling or chocolate cream or ricotta cheese filling. They are a wonderful Italian treat. You may make them as small 3-inch tarts or even smaller "mini" tarts.
Ingredients:

Dough:
2 cups unbleached all-purpose flour
1/2 cup granulated sugar
3/4 teaspoon baking powder
1/8 teaspoon salt
1/2 cup solid vegetable shortening
1/4 cup milk
3/4 teaspoon vanilla extract
1 large egg, well beaten

Filling:
3 tablespoons cornstarch
2/3 cup granulated sugar
1 1/2 cups milk
1 1/2 tablespoons unsalted butter
1 large egg yolk, slightly beaten
1 teaspoon almond or orange extract

Egg Wash:
1 egg beaten with 2 tablespoons milk, for the egg wash
Instructions:
Dough:
Sift together the flour, sugar, baking powder, and salt into a large bowl. Cut in the shortening with a pastry blender until the mixture resembles coarse cornmeal. Add the milk, vanilla, and egg and use your hands to mix the ingredients into a smooth ball of dough. Wrap the dough in plastic wrap and set aside.

Filling:
In a medium saucepan, whisk together the cornstarch and sugar, making sure there are no lumps. Gradually whisk in the milk. Add the butter, place the saucepan over medium heat, and cook, stirring constantly with a wooden spoon, until thickened. Remove from the heat and stir in the egg yolk and almond extract. Set the custard aside.

To Assemble and Bake:
Divide the dough in half. On a lightly floured surface, roll one piece into an 11-inch circle, about 1/4-inch thick. Using a 3-inch fluted biscuit cutter, cut out circles of dough and press each one into the bottom and up the sides of 3 x 1 1/4-inch tart pans (or use "Pustie Tins" - See Note Below). Reroll the scraps and cut out additional circles. You should have 12 tart shells.

Place the tart pans on a cookie sheet. Spoon about 2 tablespoons of filling into each tart shell.

Roll out the second piece of dough and cut out 3-inch circles. Place a circle over each tart and pinch the edges closed.

With a pastry brush, paint the top of each tart with the egg wash. Refrigerate the tarts for 30 minutes.

Preheat oven to 425 degrees F/220 degrees C. Bake the tarts on the middle oven rack for 12 to 15 minutes, or until the tops are golden brown. Remove the tarts to racks and let cool completely.

Carefully remove the tarts from the pans. Store in an airtight container in the refrigerator.

Makes 1 dozen (3-inch) tarts.

*Notes:
If you make miniature tarts, bake for only 8 to 10 minutes. This recipe makes about 2 1/2 dozen miniature tarts.

Source:
Recipe adapted from: CELEBRATIONS ITALIAN STYLE by Mary Ann Esposito, published by William Morrow and Company Inc., in 1995.


Pasticiotti Tins (or sometimes called "Pustie" Tins) may be purchased online at:

http://www.njflihanco.com/product/Pustie+Tin+2.25%22/75445/1003,1005/

OR:

http://www.njflihanco.com/search.php?QC3SID=dea3d01e6fcaa6ef3de05034db2c0405


FILLING VARIATIONS

VANILLA FILLING
Ingredients:
3/4 cup granulated sugar
1/2 cup all-purpose flour
2 cups milk
3 egg yolks, beaten well
2 tsp. vanilla extract

Place sugar and flour in a saucepan. Slowly whisk in milk and egg yolks to prevent lumps. Cook until thick, stirring frequently. Cool, then add vanilla.

CHOCOLATE FILLING
Ingredients:
1 cup granulated sugar
1/2 cup all-purpose flour
1/4 cup unsweetened cocoa powder
1 cup milk
1 cup water
1 egg, beaten well
1 tsp. vanilla extract

Place sugar, flour, and cocoa powder in a saucepan. Slowly whisk in milk, water, and egg to prevent lumps. Cook until thick, stirring frequently. Cool, then add vanilla.

RICOTTA FILLING
Ingredients:
2 pounds (907g) ricotta cheese
3/4 pound (340g) confectioners' sugar

Combine ingredients and use as filling for Pasticiotti.
Date: August 1, 2007
Reviews
Reviewer:
Sylvia Pouliot
Rating:
Review:
I filled them with the ricotta filling. I decreased the sugar in the filling by half and they were still sweet. Next time I'll only add 1/4 cup for the filling. In the shell I decreased the sugar to 1/4 cup. This is a very good recipe.
Reviewer:
Chris R.
Rating:
Review:
This is an excellent recipe. I have also tried it using Splenda in the dough and Vanilla Custard Filling with great success. Thank you for posting this wonderful recipe.
Reviewer:
Sheri T.
Rating:
Review:
For the ricotta filling that my husband likes best, you only need 1 lb of ricotta - not 2 lbs - for 12 large tarts.
Reviewer:
rose
Rating:
Review:
Best ever!
Reviewer:
chris b
Rating:
Review:
Moved to Florida, very hard to find any here, tried your recipes, OMG, loved loved. Now I have been taking orders for Canolli and Italian cookies and the pusties. Thank you so much, Chris
Reviewer:
Carrie
Rating:
Review:
The flavor of the pasticiotti was great and the dough consistency was very good... however, the custard was a little too runny for my liking, I would probably add one more egg yolk to the custard and a little more corn starch. Otherwise, this was an excellent recipe!
Reviewer:
Nancy
Rating:
Review:
Made these and my son and I loved them, and even my very picky husband enjoyed them!
Reviewer:
margaret
Rating:
Review:
We grew up on "pusties", I am so excited to find this recipe. For Christmas this year I am going to try this as one large tart instead of individual tarts. wish me luck... any words of advice?
Reviewer:
ANGELA LA QUATRA
Rating:
Review:
I HAVE BEEN SEARCHING FOR ITALIAN PASTRIES FOR MANY YEARS. THIS WAS ONE OF MY FAVORITES GROWING UP. I MADE THEM TWICE ALREADY, THEY ARE DELICIOUS. DO YOU HAVE ANY OTHERS? THANK YOU.
Reviewer:
Annette Giardino
Rating:
Review:
awesome, easy to follow recipe and delicious . I also am cutting the sugar amt. in half
Reviewer:
Jennifer
Rating:
Review:
These were delicious!!!! As good as you can get in a true italian bakery. You know it's good when your family eats them faster than you can make them. Plan on making them again this Easter. I may try a lemon version. My family liked the chocolate and ricotta fillings the best. We can only get good Pusti's from the bakery, when we travel 5 hours to Utica New York so being able to make them at home is wonderful.
Reviewer:
Donna
Rating:
Review:
I want to make these with the ricotta filling but I am a little confused. Do you make the regular filling plus add the ricotta and confectioners' sugar?
Reviewer:
bonnie amidon
Rating:
Review:
Made the recipe with the custard filling for my espresso bar and found it to be excellent sold out right away I 'm about to make more now Thanks
Reviewer:
Maria
Rating:
Review:
Very easy recipe and omg are they good.