Diana's Desserts - www.dianasdesserts.com
See more recipes in
Cheesecakes
Brian's Cheesecake (Raspberry Swirl Cheesecake)
in Guest Recipe Book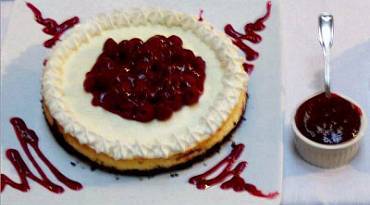 Average Rating:
(total ratings: 2)
[Read reviews]
[Post a review]
Servings: 12
Comments:
From Anne Kornow of Dexter Michigan,
My daughter, Erika, and her fiancé, Brian called on a Tuesday night to tell us they were getting married that Friday because his National Guard unit was being shipped out –for the second time--soon. We had a family only, quick, but beautiful wedding. Erika's birthday was celebrated before he left, and I made her favorite cheesecake rather than a birthday cake. She and Brian took the leftover half of the cheesecake home that evening. She called me the next morning and said that Brian liked it so much, it was already all gone! Then his unit was sent to New Jersey for final training. He just came back for 3 days prior to leaving for overseas, so we made the same raspberry swirl cheesecake for him. Again, it was gone in "no time". Now he is in Kuwait, heading to Iraq for 12-18 months. When he gets his R&R, I plan on making another such cheesecake that Erika can take wherever she meets him. And when he returns upon completion of this second tour of duty, you'd better believe that "Brian's Cheesecake" will be on the menu again and part of "The Wedding, Part 2"!

Update:
Brian is now on duty in Mosul, Iraq. Brian is coming home for R&R in April and is expecting a cheesecake then which he will definitely get!

Note From Diana's Desserts:
Anne went on to enter the Chefs.com contest for Treasured Recipes. She was one of the 100 semi-finalists. Anne was also one of the top 5 finalists who was sent to San Francisco to compete for the grand prize of $10,000. The contest was held on February 17, 2007. Some of the famous chefs on hand for the contest were Chef Ken Rubin, Martin Yan (of the "Yan Can Cook" TV show and author of several books) and Devin Alexander, the chef from the Biggest Loser, and the chefs and prep chefs of the California Culinary Academy.

Although Anne did not win the Grand Prize, she did win a suite of counter top appliances from Hamilton Beach (a stand mixer, blender, coffee maker, drink mixer and a toaster).

Congratulations Anne and thank you for sharing your wonderful recipe and heart warming story with us......Diana Baker Woodall, Diana's Desserts
Ingredients:

Brian's Cheesecake
(Raspberry Swirl Cheesecake)

For the Crust:
1 cup chocolate wafer cookie crumbs (or chocolate graham cracker crumbs)
1/2 cup finely chopped nuts (preferably almonds)
1/4 cup (1/2 stick/2 oz./56g) butter or margarine, melted

For the Raspberry Sauce:
2 1/2 cups raspberries, fresh or frozen (thawed, if frozen)
2/3 cup granulated sugar
2 tablespoons cornstarch
2 teaspoons lemon juice

For the Cream Cheese Filling:
3 (8 oz.) packages low-fat cream cheese
3/4 cup granulated sugar
2 tablespoons all-purpose flour
1 teaspoon vanilla extract
2 large egg whites
1 cup half and half cream (Half and Half is a type of cream that is sold in the US. It consists of half cream and half milk)

Cooking Spray

Garnish: (optional)
1 cup raspberries, fresh or frozen (thawed, if frozen)
2 tablespoons raspberry liqueur (such as Chambord), water, or juice
Instructions:
Preheat oven to 350 degrees F/180 degrees C.

To Make Crust:
Place chocolate wafer crumbs and nuts in a food processor or blender; process until finely ground and combined. Stir crumb mixture and melted butter together. Press onto the bottom of an 8 or 9-inch springform pan. Bake in preheated oven for 8-10 minutes or until slightly set. Let cool while making raspberry sauce.

Turn oven temperature up to 375 degrees F/190 degrees C.

To Make Raspberry Sauce:
Blend the 2 1/2 cups raspberries until smooth; press through a sieve to remove seeds. Add water if necessary to make 1 cup. Combine 2/3 cup sugar with cornstarch in a small saucepan; stir in sieved raspberries. Cook and stir over medium heat until thickened and bubbly. Reduce heat; cook and stir 2 minutes more. Stir in lemon juice. Remove approximately 1/4 cup of sauce and chill until serving with cheesecake. Cool remaining 3/4 cup sauce slightly while making cream cheese filling.

To Make Cream Cheese Filling:
Combine cream cheese, 3/4 cup sugar, flour and vanilla in large mixing bowl. Beat with an electric mixer until smooth and fluffy. Add egg whites, beating on low speed just until combined. Stir in half and half. Spray sides of springform pan with cooking spray. Pour half the mixture into the crust-lined pan. Drizzle the 3/4 cup raspberry sauce over cream cheese mixture in pan. Carefully top with remaining cream cheese mixture, covering sauce completely.

To Bake and Chill Cheesecake:
Place springform pan on a baking sheet in preheated 375 degree F/190 degree C oven. Bake for 35 to 40 minutes or until center appears nearly set when shaken. Run a think blade around edge of pan; cool on wire rack for 15 minutes. Loosen crust from pan sides. Cool 30 minutes more; remove sides from pan. Cool completely; chilling in refrigerator for at least 4 hours, but preferably overnight.

To Serve:
At serving time, top cheesecake with 1 cup raspberries, if using. Stir raspberry liqueur or juice into remaining sauce and spoon over top of cheesecake and berries.

Note from Anne:
I modified the original recipe from full fat cream cheese and cream to this version with low-fat cream cheese and half and half, and it is much creamier than the original. I tried fat-free cream cheese, but we didn't like it as much.

Makes 12 servings.
Source: Anne Kornow
Submitted By: Anne Kornow
Date: February 26, 2007
Reviews
Reviewer:
Erika
Rating:
Review:
As the daughter in the above recipe, I can vouch for it being absolutely FABULOUS! (I still can't believe it didn't win!)
Reviewer:
Stephanie
Rating:
Review:
I made this cheesecake for my husband's birthday. It was a huge hit. Everyone loved it, and decided it would be a regular family request.