Diana's Desserts - www.dianasdesserts.com
See more recipes in
Cheesecakes
Toblerone Cheesecake
in Guest Recipe Book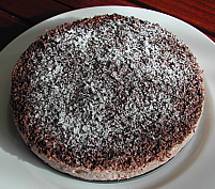 Average Rating:
(total ratings: 17)
[Read reviews]
[Post a review]
Servings: 8-10
Comments:
Toblerone is a delicious chocolate candy bar made in Switzerland. It is made of Swiss chocolate, honey and almond nougat. The chocolate bars can usually be found at your local supermarket on the candy aisle, or at gourmet candy stores. Toblerone is available in both milk and dark chocolate bars.

Ingredients:

1 cup plain chocolate biscuits (chocolate wafer cookies), crushed
1/3 cup unsalted butter, melted
500 grams (two 8 oz. packages) cream cheese, softened
1/2 cup sugar
1/2 cup thickened cream, or heavy cream
200g (approximately 8 ounces) Toblerone chocolate (milk or dark chocolate), melted

Garnish:
Extra Toblerone chocolate (milk or dark chocolate), grated
Confectioners' sugar
Instructions:
1. Melt the 1/3 cup of butter.

2. Crush chocolate biscuits into crumbs.

3. Mix together the chocolate biscuit crumbs and melted butter. Press mixture into bottom of lightly greased 23cm (9-inch) springform pan. Place in refrigerator to chill.

4. Beat the cream cheese with an electric mixer for 2 minutes or until smooth.

5. Place the chocolate in a small saucepan or in the top of a double boiler on low heat (water in bottom of double boiler should be at a slow simmer) and melt the 200g (approximately 8 ounces) of toblerone, stirring constantly.

6. Add the sugar, melted toblerone, and heavy cream to cream cheese and continue beating until thoroughly combined and very smooth.

7. Remove cheesecake base from refrigerator and spoon mixture into base. Smooth top of cake with a metal spatula. Refrigerate (in pan) for at least 4 hours or overnight.

8. Before seving, remove cheesecake from refrigerator and release sides of springform pan. Place cheesecake on serving platter and garnish with the extra grated Toblerone chocolate and dust top with confectioners' sugar (optional).

Tip:
The longer you leave the cheesecake in the refrigerator, the firmer it will be; 12 hours or overnight is best.

Makes 8-10 servings.

Photograph taken by Diana Baker Woodall© 2002
Source: Rachael
Submitted By: Rachael
Date: May 16, 2002
Reviews
Reviewer:
Shimul
Rating:
Review:
I made this cheesecake a few days ago to take over to a dinner party and it was the hit of the party! For some reason, I could not find Toblerone at my local supermarket, so I used Hershey's Symphony bars and the cheesecake was amazing! It was very soft and light unlike a lot of other baked cheesecakes that are very dense. This one definitely goes into my own recipe book and I am sure to make it many many times! Thanks for the recipe!
Reviewer:
Tookie
Rating:
Review:
i didnt make it.. im only in grade 10. but i made something like it... and it turned out pretty good. but me and my friend melted the chocolate to put on top and it got messed up.. uh oh! i havent tasted it yet, i will tomorrow, and i hope it tastes good!
Reviewer:
mumma
Rating:
Review:
I made it for my brothers wedding and it was a big hit. So now its my motherinlaws 60th and we are at a again. love the taste and it is so easy to make
Reviewer:
Aunt Margorie
Rating:
Review:
Wonderful Cake.
Reviewer:
swiisalanz
Rating:
Reviewer:
Liz Carroll
Rating:
Review:
I forgot to mention - it's great decorated with a crumbled Flake bar and then break up a small(50g) packet of Toblerone into pieces to circle round the top.
Reviewer:
Gaylene from NZ.Putaruru
Rating:
Review:
Yum Yum YUMMY! This is the best chocolate cheesecake I have ever made. I love to make it with Cadbury Milk Chocolate.
Reviewer:
jen
Rating:
Review:
I made this awhile ago, and everyone keeps asking when I'm going to make it again....its the best and easiest!
Reviewer:
Steph
Rating:
Review:
I know this recipe by heart! Have substituted the toblerone for any type of chocolate (e.g white, rum and raisin, black forrest, coffee etc), depending on who's birthday it is and what their favourite is!
Reviewer:
Tony Hill
Rating:
Review:
I've made this a few times with an added extra of dipping the chocolate biscuits into sweet sherry to give it all a wicked kick.
Reviewer:
Liz Carroll
Rating:
Review:
I like it because no gelatine is needed! Here in tropical north queensland (Australia) I don't even have to melt the chocolate. I serve it in my cafe with ice-cream, yum.
Reviewer:
ftfgf
Rating:
Reviewer:
Binx
Rating:
Review:
Utterly Orgasmic!!!!
Reviewer:
Felix
Rating:
Review:
Note: The toblerone can be substituted for good quality dark chocolate.
Reviewer:
Birger
Rating:
Review:
The only Problem: I can't stop! Best cake ever!
Reviewer:
uji
Rating:
Review:
Can I substitue heavy cream for full cream milk?
Reviewer:
Lisa
Rating:
Review:
Amazing cheesecake recipe, instead of using butter with the biscuits for the base I use a bar of dark chocolate toblerone - and then also add some white maltesers to the cheesecake mix - so you have dark milk and white chocolate in there! love it!