Diana's Desserts - www.dianasdesserts.com
See more recipes in
Halloween
Slimeade
in Guest Recipe Book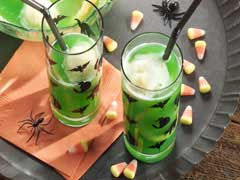 [Be the first to post a review!]
Comments:
WOW!!!!!!!
Your site is really something!!!
I'm 15 and my only ambition in life is to become an amazing cook (world famous). I also want to write a book. This recipe is so delicious you'll want more right after one glass. It may look gross but it tastes great!!!

Photo above is not the actual "Slimeade".
Ingredients:

Black olives
Ice cube tray
Pitcher
Limeade
Lemonade
Ginger ale
Long handled spoon

Instructions:
1. Before you make your slimeade, freeze a batch of eyeball ice cubes. Put an olive in the center of each cube mold in an ice cube tray. Fill the tray with water, then put it to freeze in the freezer.

2. While your eyeballs are freezing, whip up a bath of slimeade. In a pitcher, mix egual parts of limeade, lemonade and gingerale. Stir it and then put it in the refrigerator to chill for 10-15 minutes. When done take out and add eyeballs (ice cubes). Drink or serve cold.
Source: Ashritha
Submitted By: Ashritha
Date: October 23, 2006