Diana's Desserts - www.dianasdesserts.com
See more recipes in
Cheesecakes
Indulgent Blueberry Cheesecake
in Guest Recipe Book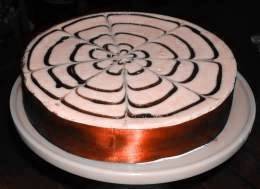 Average Rating:
(total ratings: 2)
[Read reviews]
[Post a review]
Servings: 10-12
Comments:
"This is a truly rich and wonderful cheesecake - a thin layer of sponge cake base or biscuit crust base may be added, but I personally prefer it decadent like this".
Ingredients:

Cheesecake Batter:
750g (three 8 oz. packages, plus one 3 oz. package) cream cheese, softened and at room temperature
225g (8 oz/1 cup) superfine sugar
360g (4 large) eggs, beaten

Blueberry Filling:
7 tablespoons Blueberry Pie Filling, pureed in blender or food processor

Note: Canned Blueberry Pie Filling can be used. Puree in blender or food processor.
Instructions:
1. Preheat oven to 150 degrees C (300 degrees F). Line the bottom of an 8-inch springform pan with baking paper, such as parchment or waxed paper. Wrap aluminum foil around sides and bottom of pan to prevent batter from leaking. This cheesecake is baked in a "water bath" or "bain-marie" method.

Note: See instructions below for "water bath".

2. With an electric mixer or food processor, beat (or process) cream cheese on low speed. Add the sugar and continue beating or processing until very creamy and smooth. Scraping down sides of bowl often.

3. Slowly add beaten eggs to cheesecake mixture a little at a time. Mix well.

4. Pour one half of the cream cheese mixture into prepared springform pan, set the remaining half aside for later. Place springform pan in "water bath" in oven for 20 minutes. The surface of the cheesecake should look firm at this stage.

5. Take the cheesecake out of the oven (including the "water bath" filled halfway with water), and pipe a layer of the pureed blueberry filling over the entire top of cheesecake, leaving a little blueberry filling aside for decorating top of cake later.

6. Gently pour the remainder of the cheesecake mixture over the blueberry filling, and level the top.

7. With the remaining pureed blueberry filling, beginning at the center top of cake, pipe five thin circles (or rings) about 1 inch apart from each other around the top of cheesecake.

8. With a toothpick or knife, cut a light line through cream cheese batter and blueberry circles (rings). Start by lightly cutting from top edge of cake to the center. Then from the bottom edge of cake to the center. Repeat this process from the right edge of cake to the center, and then the left edge of cake to the center. Now you will have four sections. Repeat this method again to reate a total of eight sections. This will give the top of the cheesecake a pretty swirled pattern.

9. Carefully return the cheesecake and "Water Bath" to the oven and continue baking for 50-60 minutes.

10. Remove cheesecake from oven, carefully taking it out of "water bath" with oven mitts. Discard hot water from larger pan when cool. Place cheesecake on cooling rack. When cooled completely, lightly cover with plastic wrap or foil and chill in refrigerator for at least 6 hours or overnight.

11. After cheesecake has chilled, remove from refrigerator and throw away foil from sides and bottom of pan. Before releasing cake from sides of springform pan, let cheesecake come to room temperature. Using a pastry brush, spread top with apricot glaze (optional). Release cheesecake from springform pan and place on serving plate. Store cheesecake in refrigerator.

Makes 10-12 servings.

Notes From Diana's Desserts

1. Apricot Glaze:
See "My Recipe Book" for Apricot Glaze recipe under the Frostings and Toppings category.

2. Superfine Sugar:
A very finely granulated white sugar (used in many baking recipes) that can found at your supermarket. C & H Brand makes a Superfine Baker's Sugar, which is usually found on the aisle where sugars are kept.

3. Water Bath:
A "water bath" is a method that will help keep the cheesecake from cracking while baking.

Instructions For Water Bath

Place your springform pan (filled with cheesecake batter) into a larger baking pan that it will fit into easily (the larger pan should be at least 2-3 inches in depth). Place in preheated oven. With a kettle filled with very warm water, pour water into the larger pan about halfway up, or approximately 1 1/2 to 2 inches. Bake cheesecake as directed. When cheesecake is done, remove springform pan from "water bath" in oven. Carefully remove larger pan with water in it from oven. It will be very hot. Discard water when it has cooled.

4. How To Soften Cream Cheese:
Place completely unwrapped packages of cream cheese in microwavable bowl. Microwave on High 30 to 45 seconds or until slightly softened.

Photograph taken by Diana Baker Woodall© 2002
Source: Zue Hussin
Submitted By: Zue Hussin
Date: May 9, 2002
Reviews
Reviewer:
Ken Bakke
Rating:
Review:
Lengthy put-together, but definately worth it!
Reviewer:
Kristie
Rating:
Review:
Hi Diana, just want to check with you if I could skip the first baking for 20 minutes? Instead, I mix some filling into the batter, then bake the entire cheesecake as normal for 50-60 minutes. Thanks