Diana's Desserts - www.dianasdesserts.com
See more recipes in
International Desserts and Treats
Aqua Fresca de Sandia (Watermelon)
in Guest Recipe Book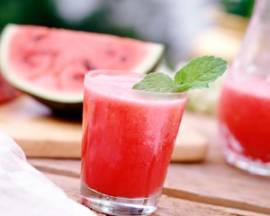 Average Rating:
(total ratings: 6)
[Read reviews]
[Post a review]
Servings: Makes 3 quarts, 6-8 servings
Comments:
Aqua Fresca or Aquas de Fruitas is a wonderful beverage served in Mexico. Literally translated as "fresh water" or "fruit waters" they are in reality light-bodied and very refreshing fruit drinks made from whatever fruit is in season combined with sweetener (traditionally sugar) and water. You will find these drinks at street stands all over Mexico and they are served at restaurants as well. The mild yet distinct fruitiness of these beverages is an excellent counterbalance to the strong flavors of Mexican cuisine. Very similar drinks are found in Filipino cuisine though they shred rather than mash the firm-bodied fruits such as cantaloupe and honeydew which makes for a very nice beverage as well.

Making Agua Fresca at home is a simple undertaking. Key points to remember are:

1. Traditionally these drinks are made without blenders and done by simply mashing the fruit with a fork or masher before adding the water and sweetener. You should try this method at least once to understand what an authentic Agua Fresca is like.

2. The amount of sweetener needed will vary depending on the sweetness of the fruit you are using. Some may not require any at all. Sugar substitutes may be used and honey is okay too though it is best to liquify the honey with a bit of hot water to ensure proper distribution.

3. If you are using a blender or food processor, do not be tempted to add all of the water called for in the recipe and never add ice. You should only add water to the blender when the fruit isn't juicy enough to blend on its own and then it should only be what is needed to liquify the fruit.

4. Most Agua Frescas are usually not served over ice. Ice dilutes the fruit flavor and does not enhance the quality of the drink. If you like your beverages cold, chill the fruit and use very cold water or chill the prepared pitcher of Aqua Fresca in the refrigerator before serving or if you must have ice, pour prepared Aqua Fresca over ice cubes once poured into glass and use as little cubes as possible.

A lemon or lime wedge garnish or a quick squeeze of fresh lime is perfectly acceptable or if desired, add a mint sprig for garnish.
Ingredients:

1 watermelon (10 lb.), or a 10-pound piece
1/4 to 1/3 cup granulated sugar
2 cups cold water
Ice cubes (optional)

Garnish: (optional)
Lemon or lime wedges or mint sprigs

Note: Cantaloupe, (seeded and diced) may be substituted for the watermelon, if desired.
Instructions:
Cut off watermelon rind and discard. Cut flesh into about 1-inch cubes. Puree melon, a portion at a time, in a blender or food processor. Pour through a strainer into a bowl to remove seeds. Mix melon puree with sugar and water to taste. If making ahead, cover and chill up to 1 day. Pour into glasses over ice cubes (optional) and garnish with lemon or lime wedges or mint sprigs.

Makes 3 quarts, 6 to 8 servings.

Per serving: 119 cal. (9.8 percent from fat); 1.8 g protein; 1.3 g fat (0 g sat.); 27 g carbo.; 6 mg sodium; 0 mg chol.
Date: June 7, 2006
Reviews
Reviewer:
Karen Dandrade
Rating:
Review:
this taste mad good. You should try it.
Reviewer:
Gila
Rating:
Review:
Hello Diana, Why not freeze a bit of that drink into small ice cubes and put them into the drink once frozen? That would not dilute the flavour at all.
Reviewer:
Paco
Rating:
Review:
wow! that was yummy
Reviewer:
Erika Jonas
Rating:
Review:
Aguas Frescas are way better than soda. I recommend to those people who are on a diet to try this drink!! And of course you can control the sugar in your drink!! Its soooo delicious! I make it everyday for my husband!
Reviewer:
iDK
Rating:
Review:
Wow!! I was astonished when I tasted this drink.......It was completely worth drinking, much better than other juices.
Reviewer:
kristine
Rating: