Diana's Desserts - www.dianasdesserts.com
See more recipes in
International Desserts and Treats
Easy Dulce de Leche
in Guest Recipe Book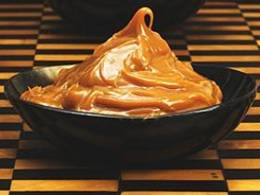 Average Rating:
(total ratings: 9)
[Read reviews]
[Post a review]
Servings: Makes 1 3/4 cups
Comments:
A favorite sweet treat in Latin America, dulce de leche is made by slowly reducing fresh milk and sugar until the mixture thickens into a luscious caramel. It's delicious blended into homemade ice cream, spread on toast, or warmed and drizzled over fresh fruit, cakes and ice cream.
In this Easy Dulce de Leche recipe all you need is just one can of sweetened condensed milk to make this wonderful latin american favorite.

Ingredients:

1 (14 ounce/396 gram) can sweetened condensed milk
Instructions:
Put the can of sweetened condensed milk in a stock put and add cold water to cover. Bring the water to a boil and let boil for 1 hour and 45 minutes. Check the water level frequently to make sure it is always covering the can. Do not boil for more then 2 hours, or you will overcook the dulce de leche and run the risk of exploding the can.

Using tongs, occasionally turn the can to stir the milk.

Remove the can from the water and let cool to room temperature. Transfer the caramelized milk to an airtight container, cover, and store in refrigerator for up to 2 weeks.

Makes 1 3/4 cups.

STORING DULCE DE LECHE:
If not using the dulce de leche immediately, you may store it, tightly covered, in the refrigerator for at least a month.
Date: January 11, 2006
Reviews
Reviewer:
tasha
Rating:
Reviewer:
marcus
Rating:
Reviewer:
laura
Rating:
Reviewer:
anna
Rating:
Review:
delicious! if i boil several cans, should i refrigerate/freeze them if i'm not using it immediately? how long will it keep?
Reviewer:
anna
Rating:
Review:
delicious! how do i properly store the dulce de leche, should i refrigerate it?
Reviewer:
ilana
Rating:
Review:
I am very sorry. but the "thing" is similar to the alfajores, but it is not one of those!The biscuits doesnt made like that, and the "dulce de leche" it must be made with fresh milk! not condensed!!! Sorry... an Argentinean
Reviewer:
eqw
Rating:
Review:
So Good!!
Reviewer:
Patti
Rating:
Review:
This way of making Dulce de leche may not be the same as making it from scratch, but it's a lot easier and faster. Sure, it doesn't taste like the "Chimbote Dulce de Leche", (which I happen to think is the BEST dulce de leche in the world!!!) But it's pretty good. One thing I do different is add a drop to 1/8 of a teaspoon of real vanilla extract to it. Like i said it's not as good as the stuff that's home made or that you can buy from Argentina, but when you don't have the time or are not able to find it at the stores, this is pretty good. Also, making it home made is extremely hard to do!!!!..... Also an Argentinian!!!!
Reviewer:
Lisa
Rating:
Review:
My boyfriend is Mexican and I made this for him 2 days ago. The difference is that I didn't full on boil the cans, I kept it just under boiling and left if for 4 hours, refilling the water level a few times. I also did this a few weeks ago as a back up for some goats milk cajeta that I was making from scratch for the first time. I learned 2 things: one is that I dont like goats milk and second is that 1 hour was not long enough to develop a rich dark color and flavor. Cooking it low for a longer time makes it so much better! I am using it for flan and also just made a cheesecake that I will drizzle with cajeta, but its really good right from the can! Yumm