Diana's Desserts - www.dianasdesserts.com
See more recipes in
Ice Creams and Frozen Desserts
Ube Ice Cream (Purple Yam Ice Cream)
in Guest Recipe Book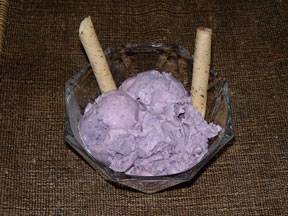 Average Rating:
(total ratings: 33)
[Read reviews]
[Post a review]
Comments:
My favorite ice cream flavor...A favorite Philippine dessert.
Ingredients:

1/2 cup frozen Ube (Purple yam)
*Note: This is usually available in a Philippine store. You may substitute with the powdered variety.
1/4 cup fresh young shredded coconut (omit if you don't have)
1 cup fresh cream
1/2 cup milk
1/2 cup sugar
1 tsp. vanilla extract


Instructions:
Follow the direction from the manufacturer of your particular ice cream maker. Mine, for example needs the ice cream pot to be chilled at minus 18 degrees celsius (0 degrees F), not lower or higher. The pot needs to be frozen overnight (at least seven hours).

You need to mix the ube and the coconut shreds in a blender otherwise the mixture will not freeze very well. As soon as you have this, that's it! Just follow the instructions for your ice cream maker. You might also want to vary the amount of the ingredients to your own taste.

Enjoy!
Source: Manong Ken's Carinderia
Submitted By: Aisa
Date: May 17, 2005
Reviews
Reviewer:
zhana
Rating:
Review:
i dont have the ice cream maker, but i'll just mix the ube powder with coconut shreds with vanilla ice cream..who knows we might have coconut ice cream here in new zealand. thanks for the great idea!
Reviewer:
asads
Rating:
Review:
I dont make it, but bought it. Really good.
Reviewer:
Bateman
Rating:
Review:
Great recipe! And Janis, living in the armpit of America and not having the where with all to find the ingredients doesn't warrant a poor rating.
Reviewer:
Janis Nichols
Rating:
Review:
Sadly I must admit I cannot seem to find Frozen Ube here in Florida - that ice cream sure looks good - anyone have a hint on how I could get my hands on some Frozen Ube......please
Reviewer:
yummy
Rating:
Review:
Hmmmmmmm.....that says it all!!!
Reviewer:
joyous
Rating:
Review:
the best!
Reviewer:
Heidi
Rating:
Review:
Went out last night at a local place to eat. Had Ube for dessert. FANTASTIC
Reviewer:
Val C. Ludovico
Rating:
Review:
Ube Flavor will always be my favorite, I'm already drooling looking at the Ube Ice Cream Picture...ummmmmm Yummmy Paborito espesyal....Pinoy Na Pinoy...Maraming Salamat for the recipe ......Ummmmmm Sarrrappppp Talaga..
Reviewer:
Piluchi
Rating:
Review:
Sadly, I do not have an ice cream maker and don´t intend to buy one. Can anyone please tell me if UBE ice cream can be done without this device? I found UBE powder and also UBE jam in a Chinese grocery here in Barcelona, but they don´t have the ice cream and I want to top a scoop with Halo-Halo, my favorite dessert.
Reviewer:
catherine cherniss
Rating:
Review:
love ube... lol we make it at home all the time just the way you make it.... that's a best thing about being a filipino... haha
Reviewer:
Glenn
Rating:
Review:
UBE Ice Cream.......Hmmm, Yummy, YAM When I think ICE Cream.......Its UBE plain silky and simple.......When I think ICE CREAM there is nothing else no doubt but Definitely UBE Its' the purple colour, the fresh inviting delicate aroma and creamy sophisticated sensual mouth watering silky smooth taste........Words just can't explain the beauty of UBE Ice Cream-You got to experience UBE in this Life or you're just missing out ........UBE the Ice Cream of the GODS.......HMMM!!!UBE!!!!!!!! UBE,,,,,,,,just brings me back to my childhood in the Phillipines.......when you hear the bells & chimes... cling cling... ka-ching... ka-ching...Ka-Ling Ka-Ling........of the Ice Cream Cart with the Ice Cream Man wearing his official Straw Hat peddaling the Ice cream cart ........its music to everyones ears and palate!!!YEAH!!!Hmmm UBE ICE CREAM Its like the whole world just stops what they're doing and just run toward the ICE CREAM CART with so much laughter, joy, energy skipping with excitement!!!and as you approach........almost touching the ICE CREAM CART you have this genuine moment of respect as everyone else.......for like the TEA CEREMONY the ICE CREAM CART has that therapeutic yet exciting ambiance....... As the ICE CREAM Man slowly lifts the Lid of the Ice Cream Cart and you immediately see that nice fresh white heavenly cloud of freezer smoke just invite you to the next step........for as the smoke clears and as you go closer to the card just almost peeping inside the freezer does you senses just give you that excitement cause you see a little hint of that purple UBE just almost waiting and seducing you......then you get hit with this wift of that familiar Fresh creamy smooth fragrance and delicious Aroma that you know is nothing but UBE!!! and UBE just sensually temps your taste buds to its limit.....Oh my gosh!!!I'm gonna faint that you just can't stand it any longer .......UBE's seduction of heavenly SIN and pleasure.......You feel like your gonna explode if the ICE CREAM MAN does not hurry up!!!Oh my GOSH I'm gonna sCREAM UBE ICE CREAM!!! and like a roar everyone does the same like in a Rock Concert!!!But its all about UBE!!! Then that first contact of your taste bud to that silky creamy delicately smooth bodied sensual seductive taste of UBE your at the point of no return you are in UBE ECSTASY.......Your eyes just roll up and your whole body and senses just captivated by UBE's embrace and you just give yourself all to this powerful delicious smooth silky ........ you name it flavour.......You just melt in Seduction........HMM!!!UBE!!! and then ........ .......after all that you want more!!!UBE -Now HINT: to even enhance UBE ........ try this out!!!!!!!! 1 Scoop of UBE ICREAM on top of........ 1 Scoop of also deliciously smooth and silky with a little bit of a sweet, aromatic, tangy, smooth taste.......of LANKA ICE CREAM or Jackfruit.......HMMM!!!a match in marraige made in Heaven .......a great combination of Flavours Purple on Yellow and the combined Aroma and taste of both UBE and LANKA Perfecto, delicious........Now that's Phillipines
Thats LANKA & UBE!!!
Reviewer:
sanger
Rating:
Review:
FAV ice cream flavor. Was at work and we were looking for a recipe for this reminiscing about the Philippines. Great!
Reviewer:
liezel
Rating:
Review:
wow!! i don't know what to say.... ang masasabi ko lng po ay maraming mari salamat po s recipe! god bless u
Reviewer:
Selena
Rating:
Review:
yummmm... i love the one i bought in the supermarket...i hope this recipe is the same as the Ube ice cream in the supermarket.......but, i don't have an ice cream maker..how do i make it without ice cream maker..should i just mix them all in a bowl, any tips? please help me......but i'm sure this ice cream recipe would be great!!! i love ice cream... i always look at this site.. i'm a certified ice cream addict!! Thanks a lot!!
Reviewer:
carisssa
Rating:
Review:
Went over to the philipines about 4 months ago and i tasted Ube for the first time and i didn't know what to expect really, and now that i'm over in Australia again i really want to go back because it was so yummy and i loved it.
Reviewer:
jim mcbride
Rating:
Review:
ube is the best ice cream in the world and jackfruit is a close second. Marigold makes it in the U.S. available at many Asian food stores. I buy a half gallon and it lasts about two days. That photo makes me drool. I don't make ice cream but I do make halaya.
Reviewer:
katt
Rating:
Review:
Ube ice cream is the best! thanks for the recipe. Maybe my mum can make some once we find the ingredients.
Reviewer:
SARANGANI MARKET
Rating:
Review:
JANIS OF FLORIDA YOU CAN GET A FROZEN UBE OR UBE ICE CREAM FROM SARANGANI MARKET IN MARYLAND....BRAND NAME IS """PHILIPPINES BEST """ ICE CREAM
Reviewer:
marty
Rating:
Review:
Wow how amazing.. i was scanning the internet for a recipe or some way to satiate my craving for Ube ice cream and voilla... i just came back from the Philippines last month from my first trip there, and was completely enamored with Ube ice cream and esspeciall with regards to halo-halo my new favorite dessert in all the world... i will be buying an ice cream maker for just this purpose... i love ube ice cream hehehe!!!! just one of my favorite unabashidly guilty pleasures... God bless!!
Reviewer:
Joshua Winters
Rating:
Review:
The best ice cream ever.
Reviewer:
ube urban
Rating:
Review:
When i make the ice cream i tend to get carried away and end up trying to make halo halo... but thanks for sharing!
Reviewer:
da808filipino
Rating:
Review:
Ha Ha, Yea baby Ube is the best. A classic favorite down in the 808 state.
Reviewer:
shandyspark
Rating:
Review:
Hi, I just tried the recipe a while ago and it was AWESOME!!!!!! Thanks for the recipe! I went all the way from buying an ice cream maker and ice cream salt just to make this Ube Ice Cream!! My hubby loves it so much..
Reviewer:
psison
Rating:
Review:
Haven't tried this yet, but need a bit more info I reckon. Can you use ube jam? To answer the other questions... If you don't have an ice cream maker, usually pre-freeze a heavy but small pot or bowl. When you're done mixing the ingredients, put it in the frozen bowl, cover with cling wrap and let freeze in the freezer. You'll have to periodically go back to your ice cream mixture (every 30-45mins) to keep mixing it so the ingredients don't separate upon freezing.
Reviewer:
arlene argamino
Rating:
Review:
It's good!!!
Reviewer:
kevin
Rating:
Review:
I have tried this recipe twice and both times it did not turn out even close to the ube from the Philippines. I just returned 3 days ago from the Philippines again and had the opportunity to eat ube several times. The first thing I noticed was there was very little coconut in the ice cream there and it was sweeter. I made it again yesterday halving the coconut and it is still bad. The next recipe I will try cooking and using fresh ube instead of the frozen ube and I will try omitting the coconut and will try more sugar. Incidently, I have been making ice cream for years and consider myself very competent
Reviewer:
Belenda Tigas
Rating:
Review:
hmmn yummy!..i'll try this one..i really, really love, love , love ube ice cream!
Reviewer:
Doris Lindsay
Rating:
Review:
Ube ice cream is the best! Magnolia ice cream shops makes it in the Philippines, excellent!
Reviewer:
Esther
Rating:
Review:
Haven't tried this yet, but I'm thinking of mixing frozen ube with vanilla ice cream... Yep, I'm lazy. Janis of Florida, if you live near Lakeland in Central Florida, I just bought some frozen ube at Asian Food Mart, 1803 N. Florida Ave. (863) 686-5970
Reviewer:
Sarah
Rating:
Review:
All those positive reviews skew the fact the recipe is poorly written. None of the positive reviewers actually cooked it!! How the hell do you call it a recipe if it doesn't actually instruct you to make it. I have an ice cream maker, however it doesn't tell me how to make ube ice cream. So maybe, if it isn't too hard say how you combine the ube mixture with the other ingredients.
Reviewer:
mary kris
Rating:
Review:
I want to try it too, thanks for the help.
Reviewer:
maria
Rating:
Review:
If you are in Jacksonville Florida, all the Asian stores have them and so does Rowes.
Reviewer:
Jordie
Rating:
Review:
WOW, I'll make this right now! I'll reckon it's yum, but I can't get my hands on shredded coconut and vanilla extract. Do you think it is okay without vanilla extract? I've done it with my Ube Milkshake, no sweat at all.