Diana's Desserts - www.dianasdesserts.com
See more recipes in
Kwanzaa
Banana Pudding
in Guest Recipe Book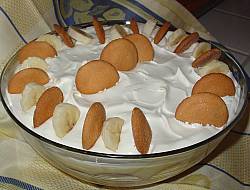 Average Rating:
(total ratings: 4)
[Read reviews]
[Post a review]
Servings: 6-8
Comments:
Banana Pudding is a very traditional southern style dessert. Why not make this delicious and simple dessert to serve your guests for your Kwanzaa celebration. It's a definite comfort food for all to enjoy!
Ingredients:

For Pudding:
1 (12 oz.) box Vanilla Wafers
2 (4-serving size each) packages Cook and Serve (not instant) Vanilla Pudding or Banana Cream Pudding and Pie Filling mix
4 cups whole or reduced fat milk (do not use fat-free or lactose reduced milk)
3 medium-large size bananas, sliced into 1/4-inch pieces

For Topping (optional)
1 (8 oz.) container frozen non-dairy whipped topping, thawed, or 2 cups prepared whipped cream
Additional Vanilla Wafers, for garnish
1 additional banana, sliced, for garnish
Ground nutmeg

Instructions:
1). Line bottom and sides of 8 x 8 x 1-inch or 1-1/2-quart baking dish with vanilla wafers (use as many wafers as it takes to line bottom and sides of baking dish).

2). Combine pudding mix and milk in saucepan. Cook and stir over medium heat until mixture comes to a full boil. Remove from heat. Layer slices of banana over vanilla wafers in baking dish, then add a layer of pudding. Repeat layers of vanilla wafers, sliced bananas, and pudding (pudding should be the very top layer).

3). Chill pudding in refrigerator until firm, about 3 hours. Spread thawed whipped topping (or whipped cream, if using) over the top of pudding and garnish with vanilla wafers and banana slices, and if desired, sprinkle with a little ground nutmeg.

Makes 6-8 servings.

Tips:

1). Bananas should be medium ripe, but not overly ripe.

2). Banana pudding may also be layered in individual dessert glasses or dishes.

3). Sprinkle banana slices with a little lemon juice to keep them from getting brown while preparing pudding.

4). The amount of vanilla wafers you use depends on what size and shape baking dish you are making the pudding in. One (12 ounce) box of vanilla wafers will be enough for the pudding and garnish.

Topping Variation
A meringue topping may be substituted for the non-dairy whipped topping or whipped cream topping. If you are going to make the meringue topping, make it as soon as you finish layering the pudding and spread over top of pudding, sealing to edge of baking dish. Bake at 325° F (160°C) for 15-20 minutes or until meringue is golden but not too brown. Chill pudding in refrigerator for at least 3 hours before serving.

Meringue Topping
Ingredients:
3 egg whites
1/4 cup sugar

Instructions:
Beat egg whites at high speed of a mixer until foamy. Gradually add sugar, 1 tablespoon at a time, beating until stiff peaks form. Spread meringue evenly over pudding, sealing to edge of dish. Bake at 325°F (160°C) for 15-20 minutes or until golden.


MICROWAVE INSTRUCTIONS FOR MAKING PUDDING

Combine pudding mix and milk in 1-1/2-quart glass bowl and blend well. Heat in microwave oven on HIGH for 3 minutes. Stir. Heat about 3 minutes longer, stirring every minute, until mixture boils. Remove from oven and proceed as directed above.

Photograph taken by Diana Baker Woodall© 2004
Date: November 14, 2004
Reviews
Reviewer:
Bobbie Rodriguez
Rating:
Review:
I really like how you did this. I have been making it for a long time and I love to see how many different ways that people make them and when I look at this picture it looks really delicious.
Reviewer:
stephanie
Rating:
Review:
With your own touch it's wonderful.
Reviewer:
Alexandria
Rating:
Review:
It wasn't terrible or anything but it could have been better though.
Reviewer:
Dee Shields
Rating:
Review:
Favorite recipe ever....