Diana's Desserts - www.dianasdesserts.com
See more recipes in
International Desserts and Treats
Hungry Monk Banoffi Pie
in Guest Recipe Book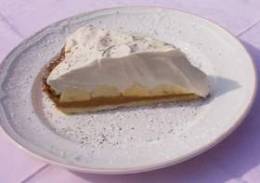 Average Rating:
(total ratings: 3)
[Read reviews]
[Post a review]
Servings: 6-8
Comments:
Invented at the Hungry Monk in East Sussex, England in 1972, Banoffi Pie is still as popular today as it was the first time it appeared on the menu. There have been many imitations as far and wide as Russia and the United States; it is even rumored to be Mrs Thatcher's favourite pudding! Below is the original recipe as it first appeared in 'The Deeper Secrets of the Hungry Monk' in 1974.

Note from Diana:
Our two close friends, Tricia and Roseleen from Dublin Ireland, made this wonderfully sweet and very rich pie for us when they visited with my husband and myself in the fall of 2001. We were truly amazed with this pie.

Tip: About the "Toffee Filling", you may not want to spend so many hours making this, so I suggest using ready-made caramel sauce in place of the cooked toffee for the filling. It will taste "almost" as good...........Diana

Ingredients:

1 recipe short crust pastry, or one ready-made pie crust
1 1/2 cans sweetened condensed milk (14 ounce cans)
2-3 bananas, sliced length wise
1 1/2 cups heavy whipping cream, whipped
1/2 teaspoon powdered instant coffee
1 tsp. granulated sugar
A little freshly ground coffee, or sweetened cocoa powder(for garnish)

*Ready-Made Caramel Sauce will work for the toffee filling, if desired. Heat ready-made sauce and spread over cooked pie crust.

Instructions:
Preheat the oven to 350 degrees F (180 degrees C). Lightly grease a 9 or 10-inch pie plate (I prefer glass, such as Pyrex).

If making pie crust from scratch, line pie plate with the pastry, thinly rolled out. Prick the base of pastry all over with a fork and bake the pastry "Blind" (without filling) at 350 degrees F/180 degrees C for 15 to 20 minutes, or until the crust is a light golden brown. Allow to cool.

If using a frozen ready-made store bought pie crust, bake per directions on package. Let cool before filling.

The secret of this delicious pie lies in the condensed milk. Immerse the cans unopened in a deep pan of boiling water. Cover and boil for 5 hours making sure that the pan does not boil dry * (See CAUTION below). Remove the cans from the water and allow to cool completely before opening. Inside you will find the soft toffee filling.

Whip the cream with the instant coffee and sugar until thick and smooth. Place in fridge until ready to use.

Now spread the toffee over the base of the baked pie crust.
Peel and halve the bananas length wise and lay them on the toffee. Finally spoon or pipe on the whipped cream and lightly sprinkle over the freshly ground coffee or powdered cocoa.

Makes 6-8 slices.

*CAUTION*
It is absolutely vital to fill up the pan of boiling water frequently during the cooking of the cans. 5 hours is a long time and if they are allowed to boil, dry cans will explode causing a grave risk to life, limb and kitchen ceilings.

Tip: Banoffi is a marvellous "emergency" Pie once you have the toffee mixture in your cupboard or pantry. I therefore suggest that you boil several cans at the same time as they keep unopened indefinitely.

*NOTE: If using ready-made caramel sauce instead of making the "Toffee Filling" from scratch, heat sauce in a medium pan until warm. Spread over cooked pie crust, and continue recipe as directed.
Source: The Deeper Secrets of the Hungry Monk
Date: March 2, 2002
Reviews
Reviewer:
Diana Anderson
Rating:
Review:
My work friends raved when I made this the first time, the second time I added a layer of strawberry slices to brighten up the color. The only problem I have is the toffee will become moist and cause the crust to become slightly soggy. Any suggestions?
Reviewer:
Sherry Joyce
Rating:
Review:
I have made this before with the English recipe. I only boiled the condensed milk for 3 hours and it was just fine.
Reviewer:
Sherry Joyce
Rating:
Review:
I have made this before with the English recipe. I only boiled the condensed milk for 3 hours and it was just fine. Also you can boil up several cans for future use. They keep on the shelf for a long time.