Diana's Desserts - www.dianasdesserts.com
See more recipes in
International Desserts and Treats
Princess Cake
in Guest Recipe Book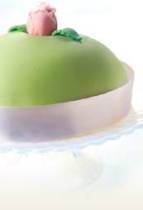 Average Rating:
(total ratings: 5)
[Read reviews]
[Post a review]
Servings: 12-14 servings
Comments:
Princess cake is a beautiful cake that originated in Sweden. It is usually made for birthdays and other special occasions. It is a sponge cake that has a cream filling and the layers are brushed with a simple syrup and raspberry jam. The cake is frosted with whipped cream and then a light green marzipan topping is rolled and stretched over the entire cake.
Ingredients:

Ingredients:
8 eggs, separated
1 cup sugar
1/2 teaspoon salt
2 1/2 cups flour, sifted
1/2 teaspoon baking powder
3 ounces melted butter
Cream filling (recipe follows)
Whipped cream ( recipe follows)
Simple syrup (recipe follows)
8 ounces raspberry jam
Marzipan Dome (recipe follows)

Instructions:
Whip the egg yolks until they are pale yellow and doubled in volume. In another bowl, whip the egg whites until frothy, gradually adding the sugar until the foam becomes stiff. Fold half of the whipped egg whites into the yolks. Fold in the remaining egg whites thoroughly, until uniform in color. In 4 batches, fold in the sifted flour and the baking powder then the butter.

Immediately pour the batter into 2 (10-inch) greased cake pans and bake in a preheated 350 degree oven F for about 30 minutes or until a toothpick inserted in the middle comes out clean. Allow the cakes to cool on a rack. After they've cooled, run the tip of a knife around the edge of the cakes to loosen them from the pans and remove. Using a long serrated knife, slice both cakes into 1/2-inch thick disks. Only 3 will be needed, reserve the rest for future use.

Place a 10-inch springform pan without a bottom on a 12-inch cakeboard. Place 1 layer of the sponge cake on the bottom, and generously brush with the syrup. Spread the jam evenly over the syrup and place a second layer of sponge cake on top of the jam. Brush with syrup and spread the prepared cream on this layer. Top with a third layer of sponge cake and again, brush with the syrup. Using your hands, press lightly on the cake to ensure cake is level. Refrigerate for 1 hour.

Remove the springform mold from the cake and generously frost the sides with the reserved whipped cream. Pour the remaining whipped cream directly on the center of the top of the cake and using a spatula, make a mound, working from the center out. The height of the whipped cream should be approximately 1 1/2-inches in the center and about 1/2-inch on the edges.

Dust a work surface again with confectioners' sugar and roll the light green marzipan to a 1/10-inch thick circle, using as much confectioners' sugar as necessary during rolling to prevent the marzipan from sticking to the work surface. When you're finished rolling, marzipan should be stretched enough to cover the entire cake and sides. Roll marzipan on rolling pin and gently lay it down on top of the cake, smoothing out the dome and lightly pressing on the bottom edges of the cake to form a perfect dome. Decorate with leftover marzipan, making a braided border on the edge of the cake or simply dust the entire cake with confectioners' sugar.

Cream Filling:
2 cups milk
1 split vanilla bean
2 eggs
5 tablespoons cornstarch
1/2 cup sugar
Pinch salt

Bring the milk and vanilla bean to a simmer in a medium saucepan. Remove from heat and let sit for 10 minutes to infuse. Remove vanilla bean. Whisk the eggs, cornstarch, sugar, and salt in a bowl until smooth. Add half of the milk into the bowl containing the eggs, whisking constantly, then return the mixture to the saucepan containing the remaining milk, whisking over moderate heat. Continue whisking until the mixture is thickened and begins to simmer. Allow cream filling to simmer, whisking for an additional 2 minutes. Transfer into another bowl, cover and allow to cool completely.

Whipped Cream:
5 cups heavy cream
10 tablespoons sugar

Whisk heavy cream with sugar until it is firm and holds its shape, being careful not to over whip. Fold one-fifth of the cream into the cooled pastry cream and refrigerate, covered, until chilled (approximately 1 hour). Reserve the remaining whipped cream in the refrigerator, covered.

Simple Syrup:
1 cup water
1 cup sugar

Bring water and sugar to a boil in a medium saucepan, remove from heat and allow to cool.

Marzipan Dome:
1 1/2 pounds marzipan
Green food coloring
Confectioners' sugar for rolling

Color a walnut size piece of marzipan with the green food coloring until the marzipan is deep green. Reserve. Using a sifter or a fine mesh strainer, dust a scrupulously clean work surface with confectioners' sugar. Tear off a pea-sized piece of green marzipan and knead it with the remaining marzipan until it is uniform in color. Add additional pieces from the green marzipan until it achieves a light green color (it should be the color of a Granny Smith apple). Discard the leftover deep green marzipan.
Source: Gale Gand, Food Network
Date: May 7, 2004
Reviews
Reviewer:
Chef Annaliese
Rating:
Review:
I have made and tasted some very elegant cakes before, but the "Princess Cake" is by far one of the most wonderful cakes i have ever tasted. I first tasted one in Italy about 3 years ago, and it was absolutly devine. You can also try one for yourself at IKEA, in their food court area. It was fabulous! -Annaliese
Reviewer:
Eleni Christofer
Rating:
Review:
I found this cake many years ago in a little Swedish Bakery in North Hollywood. I bought it every chance I could for holidays, birthdays, weekends or whatever excuse I could think of..just to be able and find that perfect taste of heaven in my mouth. I was reluctant to try and make it myself, but DID. May I say that I made it with a Vanilla Genoise cake recipe the second time around and it was outstanding. I can honestly say that your recipe brought the same enjoyment that I found from the Bakery in California, and I have the added pleasure knowing that I made it myself! Thank you!
Reviewer:
Mirael Goss
Rating:
Review:
I CAN BAKE AND I CAN COOK. I'VE TASTED THINGS THAT WOULD BLOW YOUR MIND, BUT THE PRINCESS CAKE TAKES THE CAKE. IT WAS FABULOUS.
Reviewer:
Crystal Hartley
Rating:
Review:
I believe that bakery in North Hollywood was called "Kungsholm Smorgasbord and Bakery." I worked there when I was 18 - sold hundreds of pink and green princess cakes - some were traditional round layer cakes and some were smaller loaf cakes - they were so delicious and popular. I have made them a couple of times myself - one for my own wedding - lots of work but the response is worth it!
Reviewer:
Sarah
Rating:
Review:
Do you know of a similar recipe without marzipan? Also, more of a cookie layer cake. Thanks