Diana's Desserts - www.dianasdesserts.com
See more recipes in
International Desserts and Treats
Queijadas de nata (Cream Tarts)
in Guest Recipe Book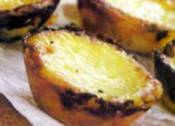 Average Rating:
(total ratings: 14)
[Read reviews]
[Post a review]
Servings: 24 tarts
Comments:
"Queijadas de nata: Little cream tarts that originated in the Azores Islands. From my cookbook: "Foods of the Azores Islands".... Deolinda Maria Avila.
Ingredients:

1 cup whipping cream
1 cup sugar
1/2 tbsp. cornstarch
6 egg yolks
1/2 tsp. lemon rind, grated

Pastry (see recipe below)

Instructions:
Butter and cover 24 tins with the pastry of your choice. Mix all ingredients well, beating alittle. Fill tins half way. Bake in a preheated 375 degree F (190 C) oven for about 20 minutes or until cream is solid. Remove tarts from tins while hot. Cool.

Pastry

Ingredients:
1 1/2 cups all-purpose flour
1/2 cup granulated sugar
1/8 cup (1/4 stick/1 ounce/28g) unsalted butter
1/8 tsp. salt
2 eggs

Instructions:
Mix all dry ingredients, work in butter and eggs and knead until smooth. Let dough rest for about 10 minutes. Roll dough on a floured work surface with a rolling pin as thin as possible. Butter and line the 24 tart tins with pastry.

Makes about 24 tarts.

Source: Foods of the Azores Islands by:
Deolinda Maria Avila
Source for Pastry Recipe: DianasDesserts.com
Submitted By: Deolinda Maria Avila
Date: May 24, 2003
Reviews
Reviewer:
Luisa
Rating:
Review:
I grew up in the Azores, and I love, love, love these Queijadas! They are my favorite dessert, along with the Mil Folhas... need a recipe for that one too... My mom would never make me these Queijadas, because they "Took too much work". Well, now, that I have the recipe, I'm going to have many and many of them! Thank you very much for the recipe!
Reviewer:
Nina
Rating:
Review:
I grew up in Sao Miguel-Acores (Azores) and my life still revolves around these quijadas. I tried to make them with the pastry recipe here included but it came out tasting alot different than the original. Too Crunchy and two sweet. The pastry has to be more flaky and not so sugary. I am using store bought flaky pastry and it comes ou more like what I remember. I still go to Massachusetts all the time and there I get a chance to remember what it is like to be Portuguese. I live in El Paso, Texas now and a little bit of Portugal is always welcome. Thank you for this recipe.
Reviewer:
Betsy Borchardt
Rating:
Review:
I use to eat these all the time growing up in MA. Used to ride my bike to go get them but you cannot find a Portugease bakery out here in Kansas so I had to find a recipe and they came out great. Can't get enough of them. I want to take a moment to thank you .
Reviewer:
Darlene
Rating:
Review:
Hello there, I tried your recipe for Queijadas this morning but was unable to do a good job with the pastry. Do you have any recipes on how to make the authentic pastry for Queijadas. Thanks for your help! : )
Reviewer:
Diana
Rating:
Review:
I have included a simple pastry recipe for the Queijadas de nata in this recipe. Hope this helps you out.
Reviewer:
Marlina Stone
Rating:
Review:
My family is from Terceira and Sao Jorge Acores, and I grew up eating Queijadas de Nata and this recipe is ok. The filling is good, however the pastry is not right, it was crunchy not flaky. How could we tweak the pastry to taste right?
Reviewer:
devina
Rating:
Review:
i tried your recipe today...the pastry was too sweet and crunchy..and the filling was very sweet too. i guess have to try using a different pastry recipe and reduce the amount of sugar in the filling.
Reviewer:
Delia Pacheco
Rating:
Review:
i love this recipe. i'm from Faial Azores and i used to eat a lot of these. i want to now if i can use puff pastry?
Reviewer:
Carla
Rating:
Review:
I was born and raised in sao miguel acores and live in MA where im always around portugese bakeries and i just thought the crust was too crunchy. i just wanted to know what else do u recommend for a crust? i just love these pastries. its my families fave. Please let me know, thanks
Reviewer:
Maggy
Rating:
Review:
The filling is good but the crust is better bought in the store. I use Pepperidge Farm pastry sheets, and roll them out a bit, that works out fine.
Reviewer:
Rebekah
Rating:
Review:
Well my mom is from the Azores and she loves the flaky pastry! But is there another recipe for a flakier pastry?
Reviewer:
Nicole
Rating:
Review:
I'm looking for a recipe for a Portuguese bread I had while living in Terceira. It was a sweet bread shaped like a triangle that was folded with coconut in the layers. Can anyone help?
Reviewer:
Joe
Rating:
Review:
Fantastic recipe....have eaten these as a child growing up in a Portuguese household in the USA.
Reviewer:
Little Azorean Girl
Rating:
Review:
You can make these without a crust. Just grease a nonstick cupcake pan with butter and a nonstick cooking spray. It actually makes it own.. Also try slowing baking them so they do not burn. I bake mine at 275 degrees for about 45 minutes. If not brown enough go another 10 minutes.