Diana's Desserts - www.dianasdesserts.com
See more recipes in
International Desserts and Treats
Pastéis de Nata-Portuguese Egg Custard Tarts
in Guest Recipe Book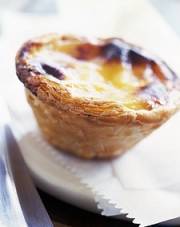 Average Rating:
(total ratings: 18)
[Read reviews]
[Post a review]
Servings: Makes 12 tarts
Comments:
About This Recipe
This recipe comes to us from David Leite of Leite's Culinaria (www.leitesculinaria.com). He has adapted the recipe from Deolinda Maria Avila's book "Foods of the Azores Islands".

He writes:
Make sure the pastry ingredients are well chilled and the custard ingredients are at room temperature. The pastry is partially baked before filling to eliminate an uncooked pastry layer that sometimes can result.
Ingredients:

Pastry:
2 cups flour, plus more for rolling
1 teaspoon salt
2 tablespoons granulated sugar
10 tablespoons (1 1/4 sticks/5 oz./141g) chilled unsalted butter, cut into 1/4-inch cubes
5 to 7 tablespoons ice water

Custard:
1 tablespoon cornstarch
1 1/2 cup heavy cream
1 cup granulated sugar
6 egg yolks
Instructions:
Make The Pastry:
In the bowl of a food processor fitted with a metal blade, pulse the flour, salt and sugar to combine. Add the butter and pulse until the flour resembles coarse, uneven cornmeal, about 10 (1-second) pulses.

Drizzle 5 tablespoons of the ice water over the mixture. Pulse several times to work the water into the flour. Add the remaining water, 1 tablespoon at a time, and continue pulsing until the mixture develops small curds. Turn the dough out onto a work surface, shape it into a disc and cover with plastic wrap. Refrigerate for at least 1 hour.

On a lightly floured surface, roll half the dough to 1/16-inch thickness. Cut out 6 (4 1/2-inch) circles. (If you don't have a cookie cutter, a wide-mouth jar works well.) Ease the dough circles into a 12-cup (4-ounce capacity) nonstick muffin tin, pressing out any overlapping folds. Repeat with the remaining dough. Place the tin in the freezer for 5 minutes. Remove and trim any overhang with the back of a knife so that the pastry cups are flush with the top of the tins. Line dough cups with cupcake papers and fill with dried beans or pastry weights. Bake at 350°F/180°C for 10 minutes to set.

Make The Custard
Dissolve the cornstarch in 1/4 cup of the cream in a medium bowl. Add the remaining cream and sugar, and stir until the mixture is smooth and the sugar dissolves. Check for sugar granules with a spoon; none should remain.

In a small bowl, blend the yolks with a fork until smooth. Add the yolks to the cream mixture, stirring gently to combine.

Ladle the egg mixture into the partially baked pastry cups, filling to 2/3 capacity. Bake at 350°F/180°C until the edges of the custard are puffed and middle is still jiggly, about 20 to 25 minutes. (The custard will continue to cook.) Cool completely in the tin. The pastéis are best when eaten the same day.

Makes 12 tarts.

Source:
David Leite, Leite's Culinaria (www.leitesculinaria.com).
David Leite has adapted the recipe from "Foods of the Azores Islands" by Deolinda Maria Avila (Self-published, 1977).
Date: May 7, 2003-Revised on July 10, 2006
Reviews
Reviewer:
Noel Dickson
Rating:
Review:
Delicious, had them for breakfast in Madeira. They call them Maderian Tarts! Consider buying the ouff pastry!
Reviewer:
Ryan
Rating:
Review:
When I visited Portugal some years ago, I'd stop every afternoon for a cup of coffee and a Pastéis de Nata. I'll sadly never be able to make them quite like the 'real deal': but of the several recipes I've tried, this one is the most successful approximation. Try them!
Reviewer:
george
Rating:
Review:
this is a king of all kings the pastel de nata or belem the original name .is a bakery in mississauga call nova bakery that makes the best that i ever taste .on saturdays i cleen up 6 before anybody say hello.and i been in lisbon lots of time in the place that the pasteis de belem born
Reviewer:
lisa
Rating:
Reviewer:
Silvia
Rating:
Review:
I didn't really like the pastry, and I thought the custard was too eggy and could have been a bit more flavoursome, but despite me adding some vanilla nothing changed. I have never tried the real thing so I don't know if this the way they re supposed to be, I just didn't like them much.
Reviewer:
Jordan
Rating:
Reviewer:
Liz
Rating:
Review:
I tried to make them your way and they did not turn out nice at all. Half cooking the pastry made the end result very flaky and burnt. The filling wasn't very good either, I made a batch using a different filling and it worked out great. May I suggest you heat the filling on the stove to cook it.
Reviewer:
Lourdes Oliveira
Rating:
Review:
Pasteis de nata e o melhor do mundo seja la onde sao feitos em Portugal Acores Madeira o Canada nao a sobremesa igual.......
Reviewer:
Lucy
Rating:
Review:
Thank you very much.
Reviewer:
fernandes
Rating:
Review:
if you don't like them, you obviously can't make them correctly! pasteis de nata are to die for!
Reviewer:
Margie
Rating:
Review:
My childhood friend owned a Portuguese Bakery and sold these for a quarter. I made these and it brought back memories. Very good recipe, my husband LOVED them!
Reviewer:
Franz Aigner
Rating:
Review:
I became addicted to them on several trips to Portugal. Can they be purchased in the USA, or is there a bakery that will ship from Portugal? I have tried making them but my cooking skills left much to be desired.
Reviewer:
Bee
Rating:
Review:
A co-worker brought some into work one day and corrupted the office! We all love them and crave them when there are no more. Must find local baker.....
Reviewer:
sara tavares
Rating:
Review:
oh my god, i haven't eaten these tarts for years!
Reviewer:
RON
Rating:
Review:
IF YOU ARE IN SOUTHERN CALIFORNIA THERE IS A BAKERY IN ARTESIA CALLED PORTUGAL IMPORTS THAT MAKES THEM. THEY ARE GREAT. THEY MAY EVEN BE ABLE TO SHIP.
Reviewer:
Portugal lover5
Rating:
Review:
too nice for words!
Reviewer:
Jill
Rating:
Review:
I haven't made them yet but just wondered if I should be heating the cream & sugar mixture to dissolve the sugar?
Reviewer:
alexe884
Rating:
Review:
Very nice site!