Diana's Desserts - www.dianasdesserts.com
See more recipes in
International Desserts and Treats
Tiger Cake-Finland
in Guest Recipe Book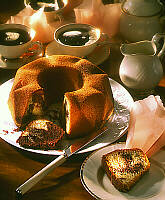 Average Rating:
(total ratings: 6)
[Read reviews]
[Post a review]
Servings: 12
Comments:
This lovely marbled cake is known as "Tiikerikakku" in Finland. Nice to serve at brunch or a tea.
Ingredients:

200g (a little less than 1 stick, or 7 tablespoons) margarine
2 dl (2/3 cup) sugar
3 eggs
3 dl (1 1/4 cup) flour
2 tsp. vanilla sugar* (see recipe below)
2 tsp. baking powder
3 tbsp. milk
2-3 tbsp. cocoa

Instructions:
Carefully butter and flour a 10-inch bundt pan. Beat margarine and sugar until light and fluffy. Add eggs one at a time, beating thoroughly after each one. Add the baking powder and vanilla sugar to the flour and stir in slowly. Put one-third of the mixture in another bowl and add 2-3 tbsp. of sifted cocoa and 3 tbsp. of milk.

Pour the mixture into the prepared cake pan in layers, beginning and ending with the plain mixture. Bake at 175 °C (350° F) for 50-60 minutes or until a skewer inserted in the center comes out clean. Cool on rack for 15 minutes, then invert onto rack to cool completely.

Makes: 12 servings.

If you don't have ready made store bought vanilla sugar, use this recipe:

Vanilla Sugar:

Makes: 2 cups

Ingredients:
2 cups granulated sugar
1 teaspoon pure vanilla extract

Instructions:
Blend the sugar and the vanilla extract in a bowl, then spread it on a tray lined with wax paper or plastic wrap and let it dry for 5 hours. Press out any lumps or sift through a strainer. Store it in an air tight plastic container.

Note: This is a simple method of making vanilla sugar. To enhance the sugar store it with one vanilla bean.
Date: February 4, 2003
Reviews
Reviewer:
Tisa Rautio
Rating:
Review:
I really hate to give this such a bad review, as I was hoping it would be a winner, but I fear that I simply must in order to spare anyone else who may try to make this.
I live in Finland with my Finnish husband (I'm American), and have been enjoying "Tiikerikakku" on many occasions, but I've never attempted making it until now. Because it is a favorite of my husband's, I thought I would surprise him with one today, and decided to use this recipe as it seemed like it would be a success, and it had deciliter measurements to boot, which is a major plus for someone always having to convert. I had trouble from the get-go, though.
First off, creaming the margarine with the sugar, and adding the eggs does not yield enough liquid for cake batter. What you come out with, after adding the dry ingredients, is a very thick, stiff and hard to divide bowl of buttercream-frosting-like stuff. I found myself 'frosting' the inside of the bundt pan with the mixture, rather than pouring it in, as the recipe states to do. Very frustrating, and alarms were already ringing in my head.
Secondly, and really the reason for such a poor review, was the taste and texture. This is definetly NOT like any tiger cake I've tasted. It is way, way too greasy with a hard, crumbly texture. Tiikerikakku should be more like the consistency of a standard, firm yellow cake; not too moist, and certainly not greasy. Also, it had a way too 'buttery' flavor, due to the massive amount of margarine, I expect.
I really felt that this recipe yielded something much closer to a greasy cornbread, and it couldn't be farther from true Tiikerikakku.
Diana, please revise this recipe and re-post because Tiger cake is so truly delicious and simple when prepared properly.
Reviewer:
Katie Gallagher
Rating:
Review:
I found this recipe when doing a report on Finland. I have tasted it before but thought that this recipe was not like the original.
Reviewer:
Nancy Peuraharju
Rating:
Review:
I live in Finland and my mother always used a thick sour cream instead of milk or cream.
Reviewer:
Michelle
Rating:
Review:
I have here the recipe that we use in Finland that might help. But It was great that Diana put her version on here too.
I use:
tl=Teaspoon rkl=Tablespoon
Ingredients: 200g margarine 2dl sugar 3 eggs 2tl vanilla sugar 2tl baking powder 3dl flour 2-3 rkl cocoa powder 3 rkl cream
So I guess the only difference was that in the Finnish recipe they use Cream instead of Milk. This might by why Tisa found the batter to be bit dry with milk?
Reviewer:
Penny Hakamaa
Rating:
Review:
This is the recipe that was given to me while in Finland. Makes a great cake. Being Australian I had problems with flour and baking powder and prefer to use self raising, which they didn't seem to have in Finland. I don't use margarine, I use butter, and I use more sugar and milk.
Recipe:
Ingredients:
200g Butter (not margarine) 2 cups sugar 3 eggs 2 teaspoons vanilla sugar 2 1/2 cups self-rising flour or 2 1/2 cups plain flour (all-purpose flour in the US) with 2 teaspoons baking powder 2 or 3 tablespoons cocoa powder 300 ml cream or milk.
Instructions:
Cream butter and sugars, add eggs one at a time, mixing well. Add flour and milk (or cream) mix well, put one third in another bowl with cocoa, mix well then layer the cake in layers of vanilla mix and cocoa mix. Bake in moderate (180 degrees C /350 degrees F) oven in greased Kugelhopf cake pan for 1 hour.
Yum! Everyone who has tasted it loves this cake.
Reviewer:
Terhi
Rating:
Review:
My grandmother would roll over in her grave if I used margarine in any recipe she has taught me over the years. Never use margarine....always use butter!!