Diana's Desserts - www.dianasdesserts.com
Tips for Pastries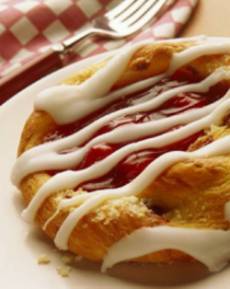 Tips on Preventing Soggy Pie Crusts
1). Choose a glass pie plate or metal pie plate with a dull finish. If your pie pan is shinny, you might need to bake the crust a little while longer for more browning.
2). For double-crust fruit pies, cut slits in the top crust to allow steam to get out. Escaping moisture will help prevent soggy crusts.
3). Bake your pie in the lower third of the oven. This will allow the bottom crust to become crisp while the top shouldn't get overly browned.
4). Brush beaten egg white or whole egg onto the sides and bottom of pie shells (for single crust pies):
First, place the pastry in a pie plate and prick the bottom and sides with a fork to prevent it from bubbling as it bakes. Then line the pie shell with a double thickness of heavy-duty foil. Bake at 450° for 8 minutes. Remove foil; bake 5-6 minutes longer or until dry and crisp. Finally, brush the bottom and sides of the crust with egg, then reheat at 400° for 4 minutes to set the glaze. Add filling.
5). To prevent a soggy crust, refrigerate the unbaked crust for 15 minutes. Or brush it with slightly beaten egg white, which serves as a sealant, then refrigerate for 15 minutes.
6). If the crust won't be prebaked, pour the filling into the pie shell just before baking to keep it from becoming soggy. Setting the pie pan on a metal baking sheet during baking also helps prevent soggy crusts.
Pastry
Tenderizing for Pastry and Pie Doughs:
Add one teaspoon of vinegar or lemon juice as part of your liquid for each cup of flour in pastry and pie dough recipes. This won't affect the flavor but will result in more tender baked products.
Why add vinegar to your pie crust dough?
When flour is mixed with water, gluten is formed--these are the protein strands that are necessary in yeast bread making, etc. When making quick breads the mixture is only mixed until blended--never overmixed--so that too much gluten is not formed. The vinegar is used in your pie crust recipe because the acid (along with the shortening) keeps the gluten strands from getting too long--thus resulting in a tender, flaky product.
Cutting Butter Into Flour:
When cutting butter into flour for pastry dough, the process is made much easier by cutting the butter into small pieces before adding it to the flour. 1. First cut each stick of butter into quarters lengthwise. 2. Keeping the quarters together, cut into pieces approximately one-sixteenth of an inch long.
"Baking Blind"
Baking Tart Shell or Pie Crust "BLIND"
This is the method used when you need to pre-bake your pie crust or tart shell before filling. Pre-heat oven to 350F/180C. Roll out the pastry and line the tart or pie pan carefully, making sure there are no holes. If there are, patch them with some of the leftover pastry dough. Line the pastry with parchment or waxed paper and fill with baking beans or pie weights, if you have them. If not, you can use any dried beans or rice. Bake the pastry "Blind" (without filling) at 350F/180C degrees for 15 to 20 minutes, or until the crust is a light golden brown. Remove the paper and beans, and allow crust to cool. After crust has cooled completely, pour your filling into pre-baked tart shell, and bake as your recipe instructs.
Freezing Pastry
UNBAKED PASTRY:
Prepare regular pastry or crumb crust. Fit into pie pans. Generously prick pastry that will be baked unfilled. Stack pie pans with a double layer of freezer paper between them. Or, store flat rounds of pastry on foil-covered cardboard separated by two layers of freezer paper. Overwrap with freezer bags or heavy-duty aluminum foil, seal and freeze. Bake when pie shell is still frozen at 475 degrees F until light brown. Or, fill and bake as per recipe. Length of freezer storage: 6 to 8 weeks.
BAKED PASTRY:
Prepare and bake pastry as usual. Cool, package and freeze. Thaw in wrapping at room temperature. Length of freezer storage: 2-3 months.
Defrosting Pastry
Defrost unbaked pastry in refrigerator, then bring to room temperature before handling.