Diana's Desserts - www.dianasdesserts.com
Tips for Passover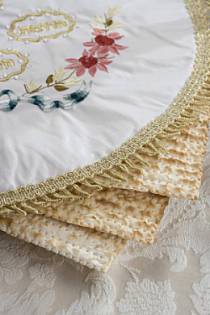 Passover
First Night of Passover for the Years 2006 - 2016
April 12, 2006* April 02, 2007* April 19, 2008* April 08, 2009* March 29, 2010* April 18, 2011* April 06, 2012* March 25, 2013* April 14, 2014* April 03, 2015* April 22, 2016*
*Holiday begins at Sundown
Passover is the 8 day observance commemorating the freedom and exodus of the Israelites (Jewish slaves) from Egypt during the reign of the Pharaoh Ramses II.
A time of family gatherings and lavish meals called Seders, the story of Passover is retold through the reading of the Haggadah. With its special foods, songs, and customs, the Seder is the focal point of the Passover celebration. Passover begins on the 15th day of the Jewish month of Nissan. As the Jewish day begins at sundown the night before, for the year 2007, the first night of Passover will be April 02nd.
Countdown to a Relaxing Seder
Mark Twain once wrote: "Never put off until tomorrow what you can do the day after tomorrow." If ever there were an exception, it has to be Passover. With so much work to be done, it's better to start as early as possible. Here is a countdown of activities to help you get a jumpstart on preparing a joyful––and relaxing––Passover Seder:
4 weeks before:
Determine how many guests are coming and be sure to check whether they have any special dietary requirements.
Arrange to borrow or rent tables, chairs, wine glasses, dishware, etc., if necessary.
Check out the grocery store for new menu items and test out the ones that interest you.
3 weeks before:
Decide on your final menu.
Gather all your recipes and make a shopping list of items you'll need (consider dividing items by perishable and nonperishable if you want to split up shopping trips––and don't forget to account for any items guests are bringing).
Start any special projects (such as making a Matzo bag or pillow rests with the children).
2 weeks before:
Start shopping for non-perishable staples, such as matzo, horseradish, wine and grape juice.
Place any necessary orders with the butcher.
Polish silverware and iron table linen.
Think about seating arrangements and create place cards if you wish to have a more formal Seder.
1 week to 1 day before:
Shop for perishable items, such as meat and vegetables (don't forget flowers for the centerpiece, if necessary).
Tip:
To save money on bagged ice, start making your own cubes and placing them in a freezer bag early in the week.
Prepare as many dishes ahead of time as possible, including baked items.
Gather serving bowls at least a day in advance (consider labeling each with a post-it note indicating its purpose and be sure to match up a serving utensil for each).
Fill your salt and pepper shakers.
Assemble all the settings you'll need and set the table as far in advance as possible.
Creating a Stunning Seder Table
The first night of Passover is a night different from all others and the Seder table is no exception. Although it can take time to set the table with all the important symbolic elements (start early and get the kids to help!), it's not hard. Here's a list of what a traditional Seder table includes as well as few tips to make yours simply stunning:
The Seder plate, comprised of the customary 5 symbols:
Zeroa - Roasted shankbone
Maror - Bitter herbs or horseradish
Karpas - Vegetable such as lettuce or parsley
Betizah - Roasted egg
Charoset - A combination usually of apples, wine, walnuts and cinnamon
(Tip: The Seder plate is a worthy centerpiece in its own right. For dramatic effect, consider using a decorative platter or unusually shaped plate, such as square.)
A dish of salt water for dipping the Karpas vegetable.
Three whole Matzos set before the leader of the Seder and contained typically within a Matzo bag with 3 compartments (for a great craft project, buy a plain Matzo bag and decorate it with sequins, beads, lace––whatever! All it takes is imagination and a glue gun).
A napkin, doily, or other piece of cloth to help hide the middle piece of Matzo (called the "Afikomen") from the children.
Cushioned chairs or a pillow on each chair (sewing or decorating Seder pillows or chair covers is another opportunity for creativity. Consider monogramming them with your guest's initials!)
A wine glass ("Kiddush cup") for each guest, or, if you wish, 4 glasses for each guest­­––one for each traditional glass of wine (for a little whimsy, dress each one up with a wine charm to help guests distinguish the glasses).
A special wine glass set in the center of the table for the symbolic wine for Elijah.
A pitcher and bowl for washing hands.
A "Haggadah," a book that tells the story of Passover, for each guest.
Two candles and candlesticks.
For extra credit (although not necessary): An arrangement of spring flowers on each side of the Seder plate in the center of the table (use one type of flower only to streamline the arrangement and keep the Seder plate the focal point).
Also nice but not necessary: A handwritten or home-printed menu of the night's fare on each guest's plate. To double it as a place card, personalize the menu with the guest's name on top.
Savor the Traditions with your Children
In Hebrew, the word "Seder" means "order". Preparing for Seder if you have children, however, can feel a lot more like "chaos". The trick to restoring order, plus creating magical memories, is to keep the kids involved as much as possible:
When shopping at the grocery store, ask them whether they know the meaning of symbolic items, such as matzo or horseradish. If they don't know the answer, keep them in suspense by telling them they'll find out at Seder.
Assign them easy recipes, such as Nut Cookies. Put them in charge of the recipe's shopping list too when you go to the store together.
Create Passover crafts together such as a Matzo bag or Seder seat cushions.
Sit them down with tasks that take concentration, like polishing the silverware if they're old enough, or folding napkins.
Get them involved in setting the table (welcome the help!)
Keep the wrapped "Afikomen" gift (the gift for finding the hidden Matzo) in plain view during the days leading up to Seder to create anticipation.
If all else fails, put a good Passover storybook or coloring book in their hands. (For instant options, do a search on the Web for "Passover stories.") Not only will it occupy them, it will help them understand why Mommy and Daddy need their help to get ready for a night different from all others.
Lotza ways to eat your Matzo
Eight days of Matzo for Passover may seem like a lot. That is until you realize Manischewitz makes dozens of Matzo products––including 16 kinds of Matzo, plus Matzo Meal, Matzo Ball Mix, Matzo Ball Soup, Matzo Crackers…enough already, you say? But that's not all. There must be fifty ways to eat your Matzo. Here are ten:
1. Cover it with melted chocolate.
2. Make it into Pancakes.
3. Knead it into Eggless Kneidlach.
4. Schmear it with your favorite schmear.
5. Roll into a basic ball.
6. Crush it into "bread crumbs".
7. Shape it into a Farfel Ring.
8. Bake it into Apple Matzo Kugel.
9. Plop it into Meat Ball Stew
10. Or, just plain stuff it.
To adapt a year-round recipe for Passover use, follow these substitution guidelines:
Passover Substitutions
For Breadcrumbs:
Substitute: Matzo meal
For Graham cracker crumbs for pie shells:
Substitute: Passover cookie or cake crumbs; Matzo meal
For Flour for thickening gravy:
Substitute: Use half the amount of potato starch or egg yolk, 1 yolk being equal to 1 tablespoon of flour
For Cornstarch:
Substitute: Potato Starch
For 1 cup all-purpose flour:
Substitute: 5/8 cup of potato starch; Matzo cake meal; or a combination of cake meal and potato starch
For 1 teaspoon baking powder:
Substitute: 1/4 teaspoon baking soda plus 1/2 teaspoon cream of tartar; Passover baking powder
For 1-oz square of baking chocolate:
Substitute: 3 tablespoons cocoa plus 1 tablespoon shortening; Passover chocolate (melted, shaved or chopped)
For Flavoring Extracts:
Substitute: Lemon juice or zest from lemon peel; orange juice or zest from orange peel; Passover brandy; vanilla sugar or crushed vanilla bean; Passover flavorings
For 1 cup Confectioner's sugar:
Substitute: 1 cup granulated sugar less 1/2 tablespoon, pulverized in a blender and sifted together with 1 1/2 teaspoons potato starch
For 1 cup sour milk for baking:
Substitute: 1 tablespoon lemon juice plus enough milk to make 1 cup. Let stand for 5 minutes.
For 1 cup light cream:
Substitute: 7/8 cup milk plus 2 tablespoons melted butter - for cooking only
For 1 cup heavy cream:
Substitute: 3/4 cup milk plus 1/3 cup melted butter - for cooking only, not whipping
For Alcoholic beverages in cooking:
Substitute: If comparable Passover ingredient is not available, substitute apple, orange, wine, or grape juice in the same amount, or bouillon in the same amount, depending on the nature of the recipe.
Passover Shopping List
Candles
Matzo
Matzo meal and farfel
Grape juice and/or wine (enough for 4 glasses per person)
Gefilte fish
Horseradish
Parsley or lettuce
Eggs
Charoset ingredients (such as Apples, Walnuts and Cinnamon
A Shankbone
Kosher salt
Salad and salad dressing
Ingredients for first course, such as Matzo ball soup
Ingredients for main course
Ingredients for side dishes
Ingredients for dessert (such as cake meal or potato starch)
Condiments
Cooking spray
Tea and coffee
Flowers for centerpiece
A small Afikoment gift (the gift for finding the hidden Matzo)
Source: Manischewitz.com