Diana's Desserts - www.dianasdesserts.com
Tips for Muffins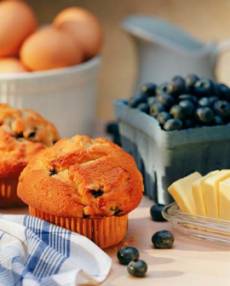 Muffin Tips
What is a Muffin?
A small, cakelike bread that can be made with a variety of flours and often contains fruits and nuts. Most American-style muffins fall into the quick bread category and are leavened with either baking powder or baking soda. The yeast-raised type, such as the English muffin, is generally finer in texture. These small breads are usually made in a muffin pan (also called muffin tin), a special baking pan with 6 or 12 cup-shaped depressions that hold the muffin batter. Each standard muffin cup is about 2 1/2 inches in diameter. There are also giant muffin pans with 3 1/4-inch cups, miniature muffin pans (gem pans) in which the diameter of each indentation is 1 1/4 to 2 inches and muffin top pans, which are about 4 inches in diameter and only 1/2 inch deep. Muffins can be sweet or savory and, though they were once considered breakfast or tea fare, are now also served with lunch and dinner.
Copyright (c) 1995 by Barron's Educational Series, from The New Food Lover's Companion, Second Edition, by Sharon Tyler Herbst
Muffin Making Tips
Muffin Pans
A special metal baking pan, sometimes referred to as a muffin tin, with 6 or 12 cup-shaped depressions. Most often this pan is made from aluminum.
The sizes of muffin cups are:
Standard muffin cup is about 2 1/2 inches in diameter and holds 1/4 to 1/3 cup batter.
Giant or Texas-size muffin cup is about 3 ½ inches in diameter and holds 5/8 cup batter.
Miniature muffin cup is about 1 1/2 to 2 inches in diameter and holds 1/8 cup or 2 tablespoons batter.
Muffin-top cup is about 4 inches in diameter but are only 1/2 inch deep.
Substituting a Different Size Muffin Cup
Substitute another size muffin cup for original size listed in recipe. If substituting a larger size muffin cup the recipe will yield fewer muffins and if using smaller size muffin cup the recipe will yield more muffins. The bake time will be changed also. Bake a larger muffin longer than the original time and smaller muffins a shorter time.
Tips On Baking Muffins
Grease muffin cups by spraying each cup with no stick cooking spray or using a paper towel dipped in shortening to grease each cup.
For rounded tops on muffins grease only the bottom of the cup and halfway up the side of the cup.
Use paper liners in muffin cups for easy clean-up.
If muffin cups are filled more than 3/4 full the muffins will have flat, "flying saucer" tops. If sufficient room is not allowed for muffins to expand before reaching the top of the cup the muffin will flatten on top.
If some muffin cups will remain empty during baking, put 2 to 3 tablespoons water in the unused muffin cups to keep the pan from warping.
If baked muffins stick to the bottom of the muffin cup, place hot muffin pan on a wet towel for about two minutes.
Source: Land O' Lakes
All About Muffins
Are You Eating Muffins or Cupcakes?
Hot breads are always a hit and muffins are one of the easiest to make. They are more quickly and easily made than biscuits and no kneading, rolling or cutting is required. They can be a savory, last minute dinner muffin or a sweet delicious breakfast muffin. Made using whole-wheat flour, wheat germ, bran, honey, fruits and nuts they can be very nutritious. But like the healthy granola craze which turned into candy bars, muffins also can quickly turn into cupcakes. Eating cupcakes for breakfast is your choice, but don't tell yourself you are eating healthy breakfast muffins. A recent magazine article revealed some muffins available in New York delicatessens were claimed to be low fat, but actually contained up to 23 grams of fat. That's more fat than two Egg McMuffins.
What is the Difference Between Muffins and Cupcakes?
Some say cupcakes have frosting. A basic formula for muffins is 2 cups flour, 2-4 tablespoons sugar, 2 1/2 teaspoons baking powder, 1/2 teaspoon salt, 1 egg, 1/4 cup oil, shortening or butter, 1 cup milk. When the fat, sugar and egg ratio in a recipe reaches double or more than this, you have reached the cake level.
Other Technical Difference Between Muffins and Cupcakes
The method of cooking is different for muffins and cupcakes. The muffin method is by far the fastest and easiest. Flour, sugar, baking powder and salt (all the dry ingredients) are mixed together. This is where the leavening can be uniformly dispersed into the flour. Sugar is mixed with the flour to prevent the flour from lumping when combined with the wet ingredients.
Making and Baking Muffins
In a large bowl, oil (or melted butter) and egg are beaten together to form an emulsion to disperse the fat more uniformly. Then the milk is stirred in. This much mixing can be done ahead and held. The two are combined just before baking.
To combine, cut and fold liquid into the dry ingredients. Mix only to combine. Batter will be lumpy but no pockets of dry ingredients should remain. The general rule is only 12 strokes.
Bake as soon as it's mixed. When filling cups, do not mix batter between scoops. Excessive mixing causes loss of leavening.
The Cake Method for Making Muffins
Sometimes muffins are made using the cake method, i.e. cream the fat and sugar, add eggs, add the dry ingredients and milk alternately. This is more time consuming but produces a lighter, more tender, cake-like muffin.
The Perfect Muffin
The perfect muffin has a thin brown crust, a slightly rounded top with a pebbled appearance and a moist, even interior. There should be no peaks, no tunnels which are usually caused by excessive mixing and too much liquid (muffin batter should not be fluid).
More Leavining is Not Better
Just because a recipe is in print does not mean that it is in balance. A guide for leavening 2 cups of flour in a recipe is either 2 1/2 teaspoons double acting baking powder, or 4 teaspoons fast acting baking powder, or 1/2 teaspoon soda plus 1 cup buttermilk (for the acid) and 1 1/4 teaspoons baking powder. Excess baking powder and soda taste bitter.
Here Are a Few Tips For Altering Muffin Recipes:
Substitute 2 egg whites for one egg in the recipe. If these are stiffly beaten and folded in at the end it will produce a lighter muffin with less fat.
Use non-fat milk instead of whole milk.
Use salad oil in place of butter. In place of the fat in the recipe, use one-fourth of the oil and replace the other three-fourths with fruit purée such as applesauce. Jars of baby food fruits provide a quick choice of purées other than apple. Adding non-gluten grain products (bran, germ, oatmeal, corn meal) for part of the flour makes a more tender muffin.
Create Your Own Taste Sensations
Begin with the basic formula and change 1/2 cup of the flour to corn meal, bran, wheat germ, rye, oatmeal or leftover cooked cereal. Add 1/2 to one cup chopped apple, dates, prunes, raisins, apricots, figs, blueberries, cranberries, cheese, nuts.
Make your favorite muffin mixes by measuring the dry ingredients twice (or more ) into two separate bowls. Use one and package one with the list of wet ingredients to be added when mixing at a later date.