Diana's Desserts - www.dianasdesserts.com
Kitchen and Baking Essentials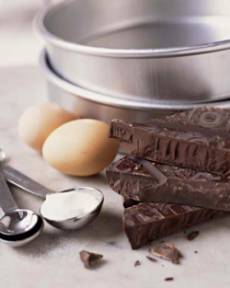 A Serious Home Baker's Kitchen Essentials
Here is a list I have comprised as some of the most important things to start out with when you want to begin very "serious" home baking. I have listed many items here, please only buy what you think you will initially need, other wise you'll be spending a fortune and you won't know where to put everything; a pantry is only so big.......Diana
List of Kitchen Baking Essentials
1). Measuring cups (for dry ingredients-plastic or stainless steel).
2). Measuring cups for liquid ingredients (such as pyrex glass or plastic).
3). One or two sets of measuring spoons (plastic or metal).
4). A set of different size mixing bowls (small, medium, large, and extra large).
5). One round and one oblong or rectangular cooling rack.
6). Rolling Pin (and rolling pin cover if you like).
7). Rubber spatula's (silicone ones are good because they can be used in high temperatures, and may be washed in the dishwasher) Also, metal spatula's for removing baked goods from pans.
8). Either a wood or marble pastry board for rolling out your pie, tart or pastry dough.
9). An offset spatula for decorating and frosting cakes, pastries and cupcakes, etc.
10). Two or three pastry brushes.
11). Pastry blender.
12). Fluted or plain pastry wheel.
13). Pastry bags, and assorted size and shape pastry tips.
14). Flour sifter.
15). Dough or pastry scraper.
16). 9 piece set of glass bowls (graduating sizes of mixing bowls for preparing ingredients for recipe).
Note:
Measure and prepare your ingredients beforehand, (it makes things go alot smoother when making your recipe) and also get out your eggs, milk, butter, etc. from the fridge as most of these items need to be at room temperature when preparing your recipe, except when making pastry crust, then the butter needs to be very cold, and even your shortening should be cold when using, although you don't need to store shortening in the fridge (can be stored in pantry).
17). Metal or wood cake testers.
18). Assorted cookie cutters in different sizes and shapes. 2 and 3 inch round biscuit cutters are good to have for cutting out biscuits, scones, etc.
19). Cookie press (needed only if you plan to make pressed out cookies).
20). Variety of food colors for tinting (either liquid or paste food colorings).
21). Pudding mold (You will need if "steaming" the English type puddings such as Christmas Pudding or Plum Pudding).
22). Pie crust shields and Ceramic Pie weights.
23). A good pair of kitchen scissors and a good set of kitchen knives. (Bread, and cake knives are important to have if you are going to be making cakes and breads).
24). Set of ramekins (at least 6 ounce ones) and a 1 1/2 quart souffle dish.
25). Oven mitts (very important).
26). Aluminum foil, Parchment baking paper, waxed paper, and plastic cling wrap.
27). A variety of flavorings and extracts (essences).
28). At least one or two whisks, one being a balloon whisk (the balloon whisk shape is especially good for whipping egg whites and heavy cream, when you need the maximum amount of air).
29). A kitchen timer. Very, Very IMPORTANT!
OK, now we'll get into the electric equipment, the baking pans and some other essentials you will probably need. Here is a list of what I consider essential, but first a couple of notes on cake pans:
Notes On Cake Pans:
Sturdy medium weight aluminum pans with dull surfaces or professional pans made of tinned steel are best for baking cakes in. Avoid stainless steel, which does not conduct heat evenly. Heavy dark metal pans, nonstick pans, and glass pans absorb and hold more heat, resulting in heavy, dark crusts.
If baking in a non-stick, glass, or dark colored pan, bake at 25 degrees lower than recipe states.
List
1). Either a heavy duty electric stand mixer, such as a KitchenAid stand mixer, or a food processor, such as a Cuisinart or KitchenAid food processor. Both a stand mixer and a food processor are good to have.
1A). An electric hand-held mixer (I recommend the KitchenAid brand) and a manual rotary hand mixer, sometimes called a rotary egg beater (a bit old fashioned, but can be useful at times, especially for whipping cream, beating eggs, and light cake batters).
2). An electric blender (I recommend the KitchenAid brand).
3). A deep fryer (either electric or non-electric).
4). At least two or three 9-inch round cake pans and at least two or three 8-inch round cake pans. Small cake pans are nice to have if you are going to make a cake for 2 - 4 people. A good size for this purpose is a 6 or 7-inch x 3-inch cake pan (they can be purchased at baking supply stores, or at baking supply stores online).
5). One or two (8 or 9-inch square baking pans).
6). One 3-quart (9 x 13-inch) rectangular glass baking dish, and 1 metal 9 x 13-inch baking pan.
7). A 13 x 18-inch jelly roll pan.
8). An 11 x 7-inch brownie pan.
9). Regular or non-stick 12 cup muffin pan. (having a mini muffin pan is good too).
10). At least 2 (14 x 10-inch or 16 x 14-inch) cookie sheets.
11). A (8.5 x 4.5 x 2.75-inch) loaf pan.
12). A (10 x 5 x 3-inch) loaf pan.
13). A set of mini loaf pans (5 x 3 x 2-inch pans).
14). A 1.5 quart rectangular glass loaf pan (pyrex is good).
15). One 9,10,11, or 12-inch removable bottom tart pan (a 9 or 10-inch is good to have on hand).
16). At least 4 flan or creme brulee dishes that are 4 to 5 inches round.
17). Springform Pans: 9-inch, 10-inch, and 11-inch springform pans (springform pans are great for making cheesecakes in, etc.).
18. Mini springform pans, set of at least 4, (4 1/2-inch to 5-inch size)
19). One of each: 6 cup bundt cake pan, 9 cup bundt cake pan, 10 cup bundt cake pan, and a 12 cup bundt cake pan.
20). One (13 x 18.5 x 1.25-inch) sheet cake pan.
21). A non-stick angel food (or chiffon) cake pan. (one that holds at least 6 - 12 cups of batter).
22). A "fancy" style cake or bundt pan (Nordicware and Kaiser are two good brands that make very nice "fancy" style bundt and cake pans).
23). Two or three pie pans or pie dishes for baking pies or tarts. Size 9-inch is a "must have" size. A 10-inch, 11-inch or 12-inch one is good for making larger pies. Use glass, ceramic or metal. Also, mini pie dishes are nice. A set of 4 is good. They are usually about 5 inches round, metal or ceramic.
24). All-purpose metal scoops are good to have for scooping out your flour, sugar, etc. from thier bags to pour into your measuring cups.
25). Small, medium and large cookie dough scoops ( 1/4 - 1/3 and 1/2 cup sizes). These I recommend for people who are doing alot of cookie baking.
26). Airtight storage containers for your different types of flours, sugars, etc.
Last But Not Least - A Well Stocked Pantry
What Is A Pantry?
A pantry should be a clean "cool and dry" storage area, a small room, usually adjoining a kitchen, where kitchen and table supplies and food are kept.
Here are some important ingredients to keep on hand in your pantry:
A good supply of different types of flours (such as all-purpose flour or plain flour , bread flour, cake flour and self-rising flour and potato flour or potato starch) box of bisquick mix, a few boxed cake mixes, a few cans of ready-made cake frosting, finely ground cornmeal (white or yellow or both), cornstarch or cornflour, a box of plain unseasoned breadcrumbs, granulated or caster sugar, baker's or superfine sugar, confectioners' sugar, a container of powdered buttermilk, instant non-fat dry milk, a few cans of evaporated milk and sweetened condensed milk, unflavored gelatine, a few fruit flavored gelatines, light and dark brown sugars and other more unigue sugars, molasses, honey, light and dark corn syrup, salt, baking soda, baking powder, cream of tartar, Active Dry Yeast, Bread Machine Yeast or Instant Yeast, Rapid Rise Yeast or Fast Acting Yeast, Solid vegetable shortening such as Crisco, liquid vegetable oil, cooking spray, spices such as ground cinnamon and ground nutmeg, mixed spice, allspice, apple pie spice, pumpkin pie spice, almond extract, rum extract or flavoring, lemon and orange extract, packaged lemon and orange zest, poppy, sesame and carraway seeds (great for topping savory breads) whole vanilla beans (or pods), and most importantly Pure Vanilla extract.